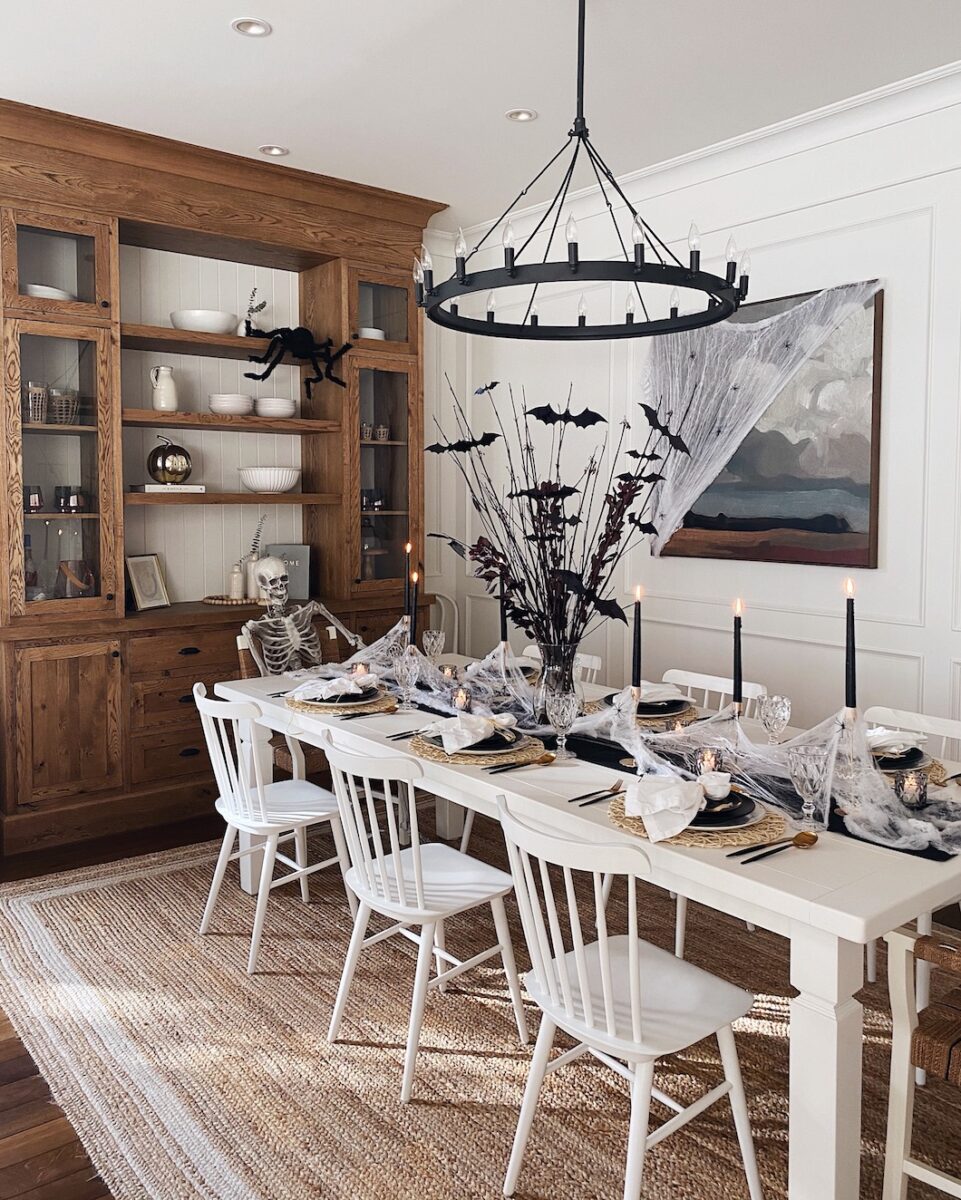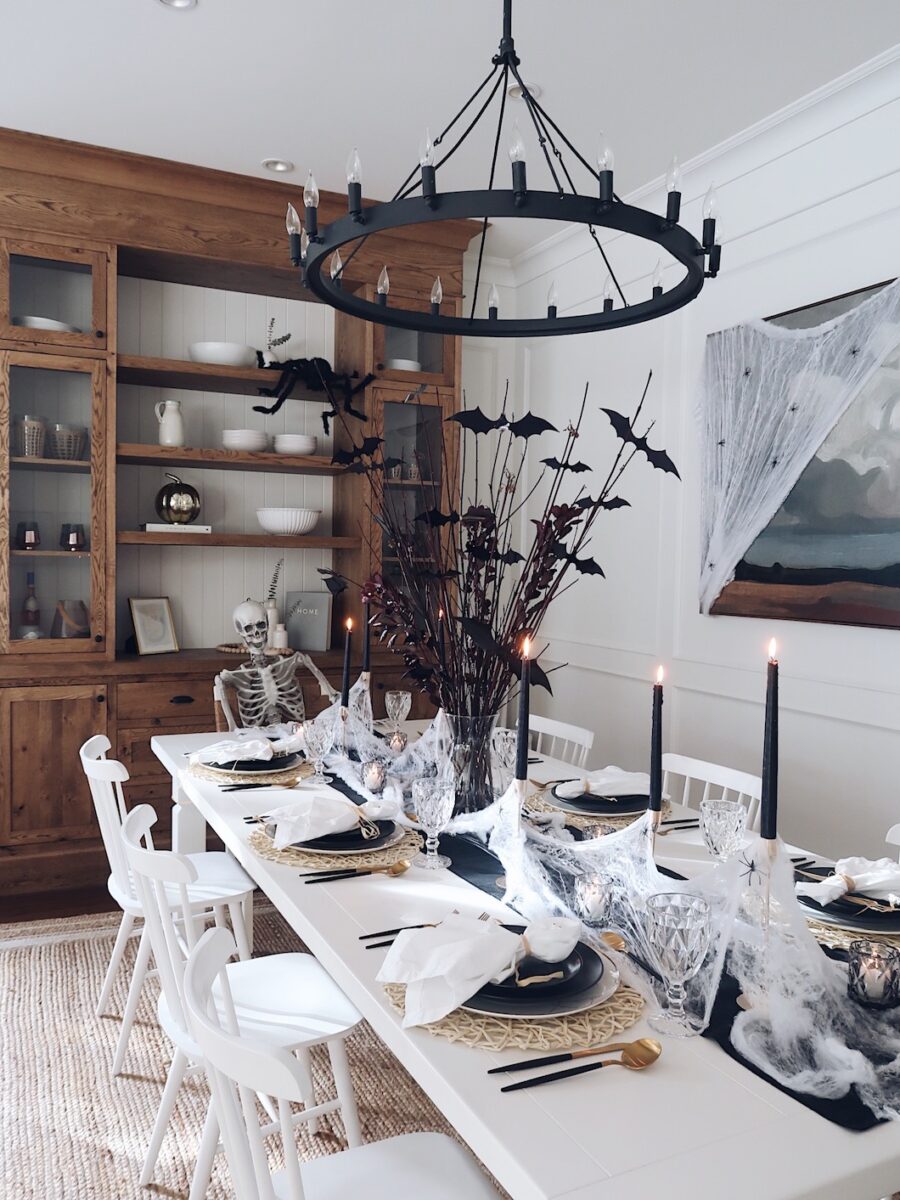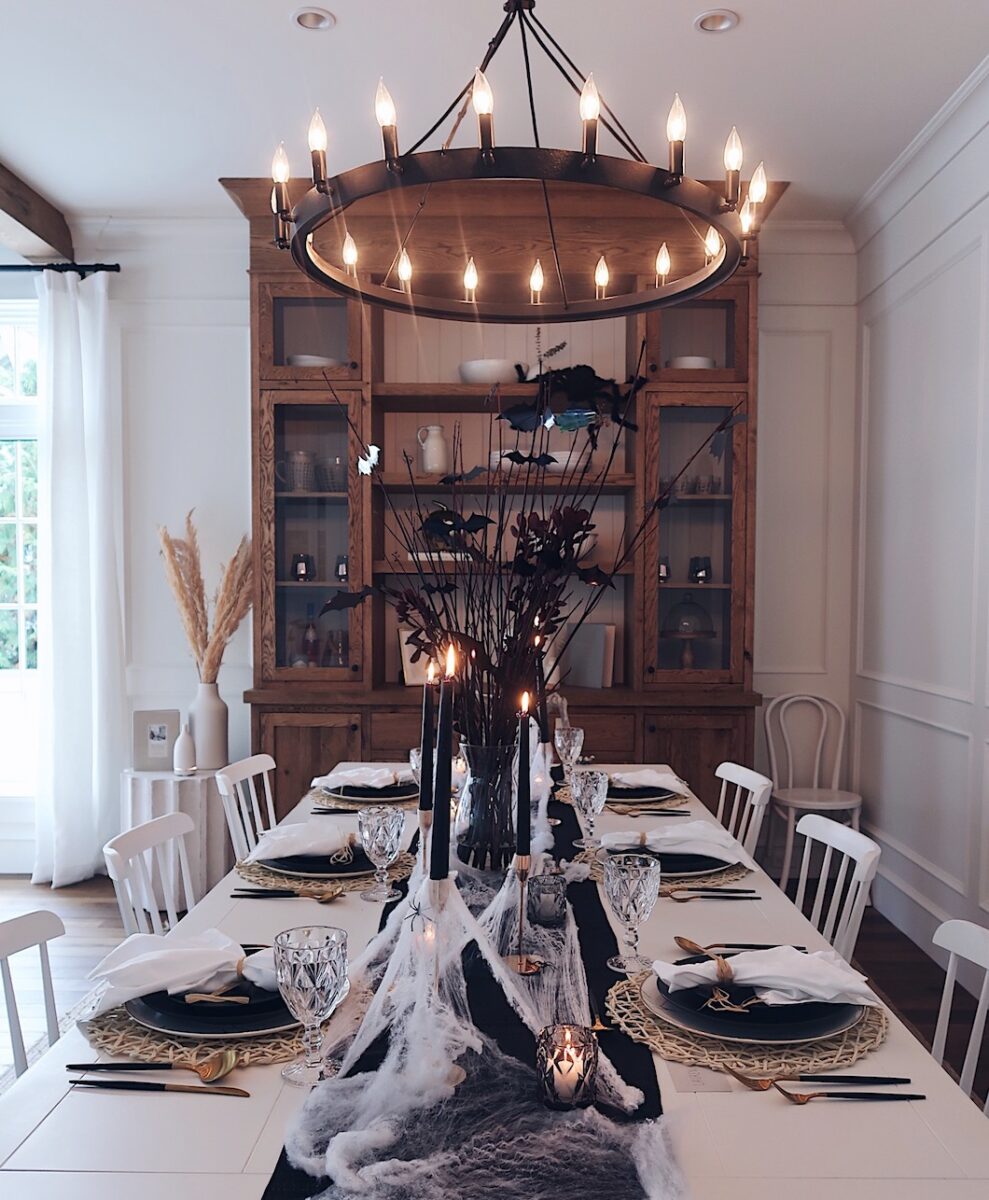 With COVID, Halloween will look a lot different this year, and I'm all for it! Instead of Halloween parties and community bonfires, we're hosting an intimate dinner party for a few of our closest. We might venture out to a couple houses on our street for some trick-or-treating, but our plan is to enjoy the evening at home this year and to make the most of it.
At first, I was a little concerned about Halloween this year, and then I started to think about how I could make it memorable at home, and that's when I connected with the lovely ladies at The Proper Table. We began to dream up a special Halloween dinner party. While they worked on the tablescape, I worked on the menu, and I instantly knew that even though we're staying home this year, it's still going to be fun.
Shara and Barb from the Proper Table went right to work and created a perfect dinner setting. I love how they used their Modern Table setting to create a "Spooktacular" theme for us. The Bat centrepiece is incredible, and I love all the spooky details they incorporated, from the cobwebs to the melted black taper candles to the ghost napkins. They stuck with black and gold accents which, I love, and kept things classy… a whole "when spooky meets chic" vibe.
If you live in Victoria, and you'd like to try The Proper Table, which I'd highly recommend, use code: COZYANDKIN for 10% off your order for the month of November. They have the perfect settings for all holidays and special events!
Spooktacular Decor Items:
3D Bat Wall Decals
Life Sized Skeleton
Black roses
Fog Machine
Giant spiders
Cobwebs
Witch Hats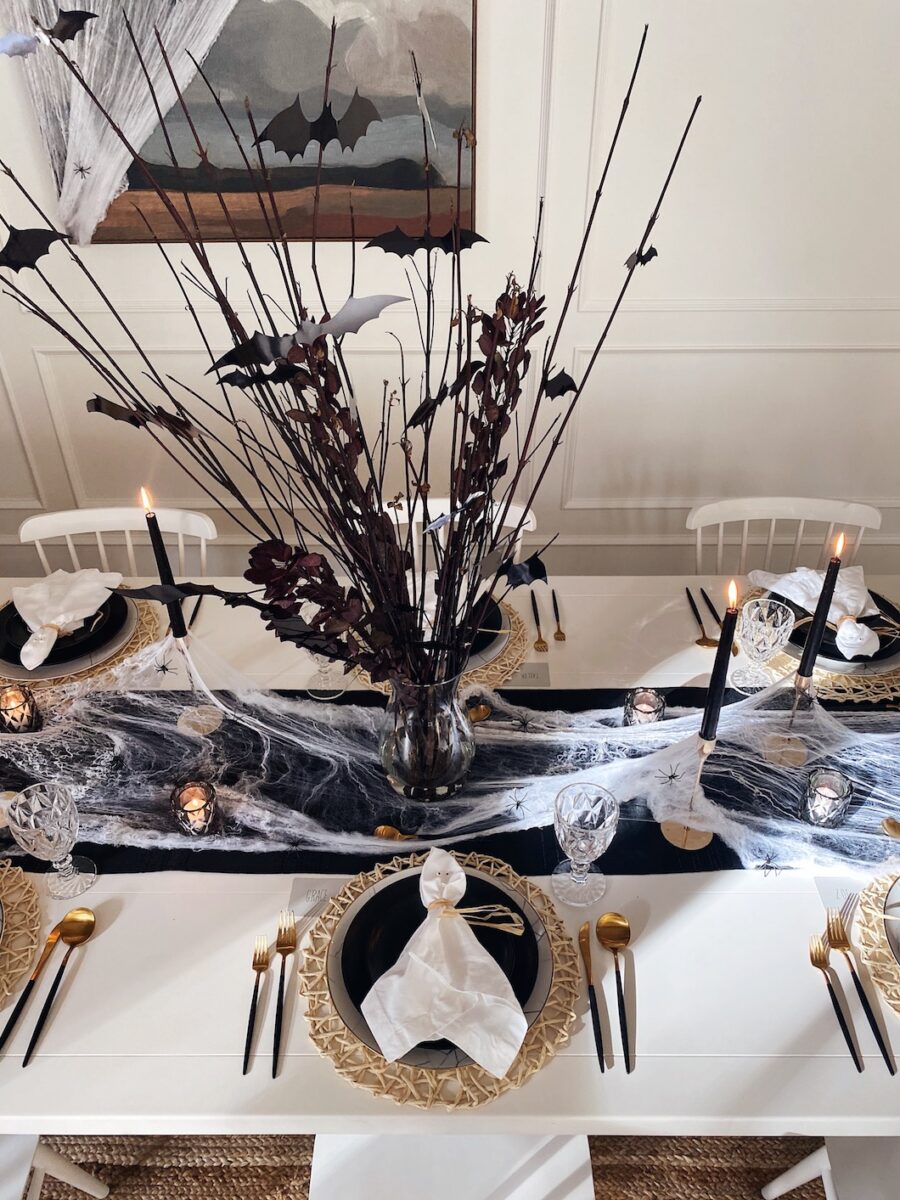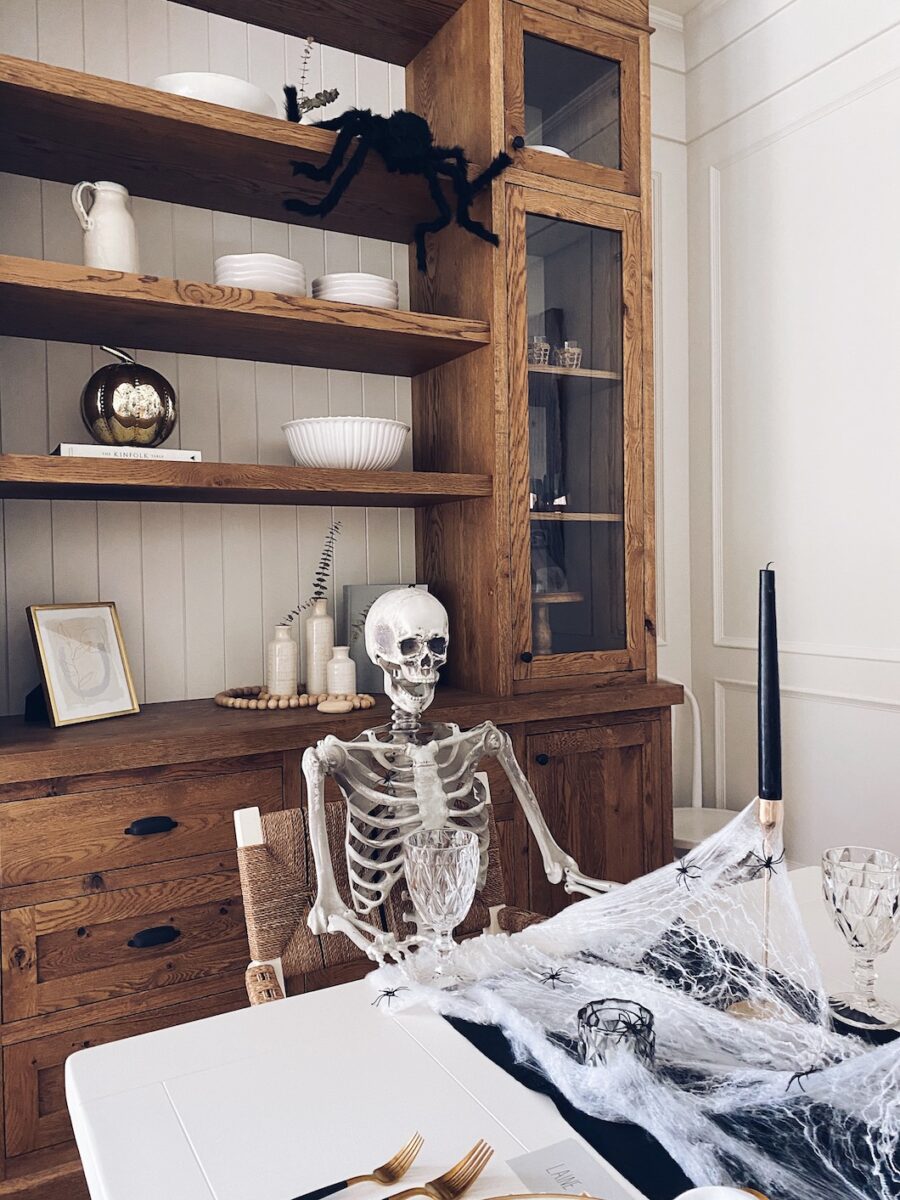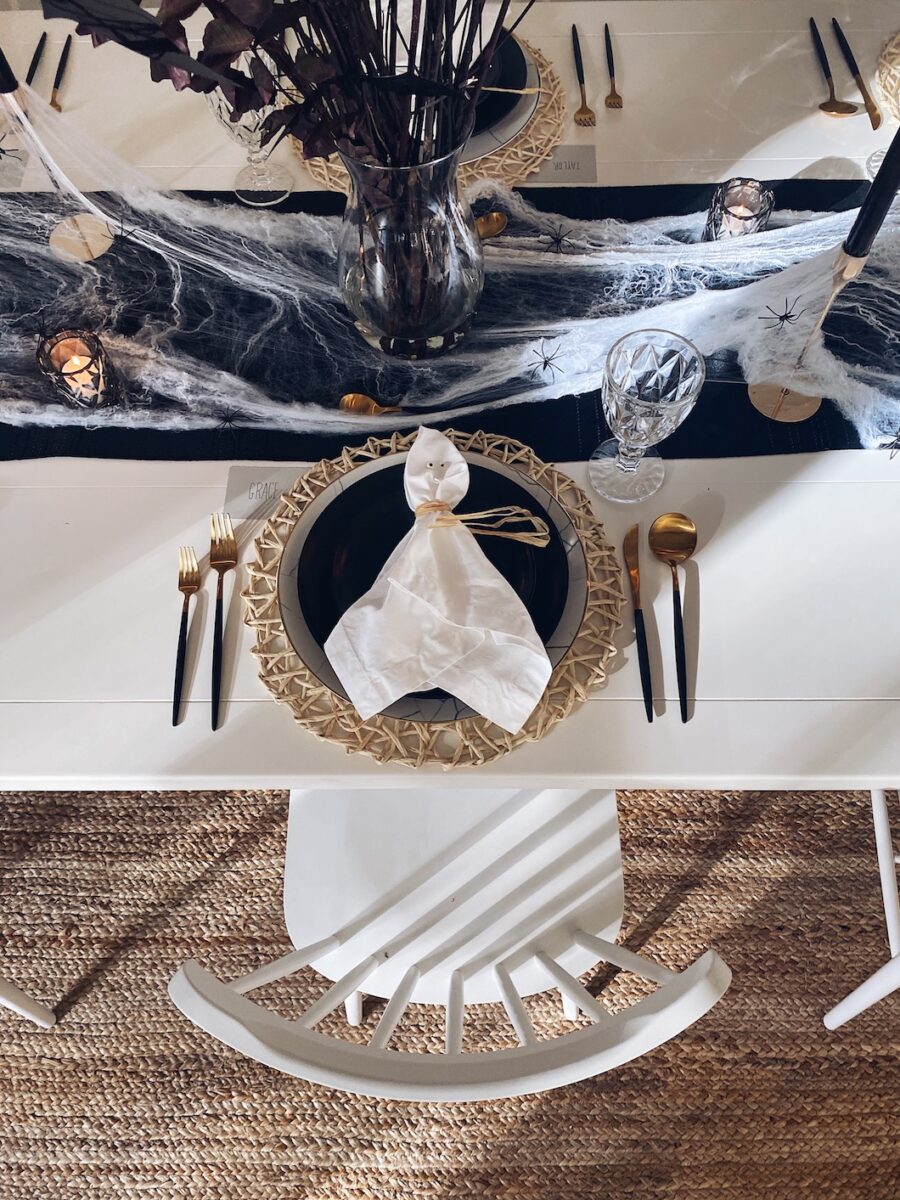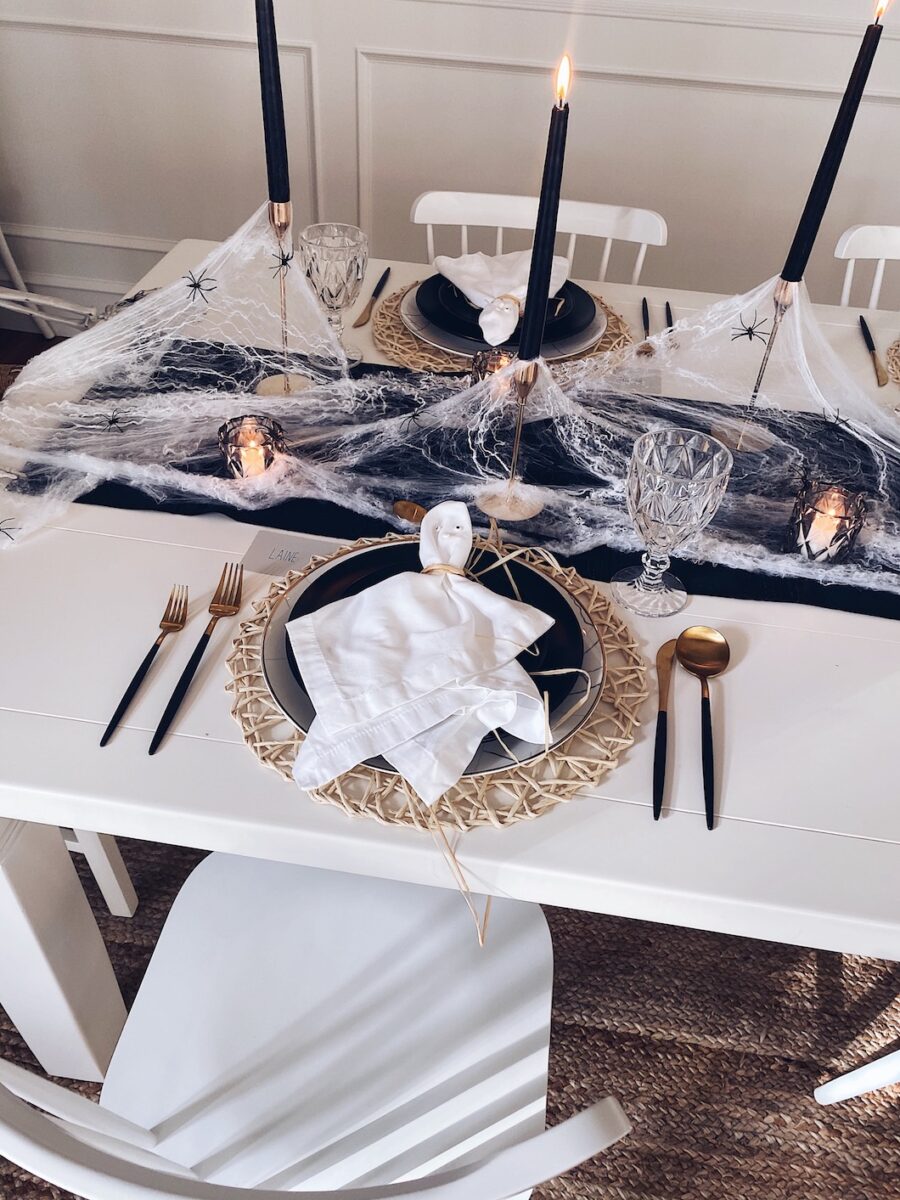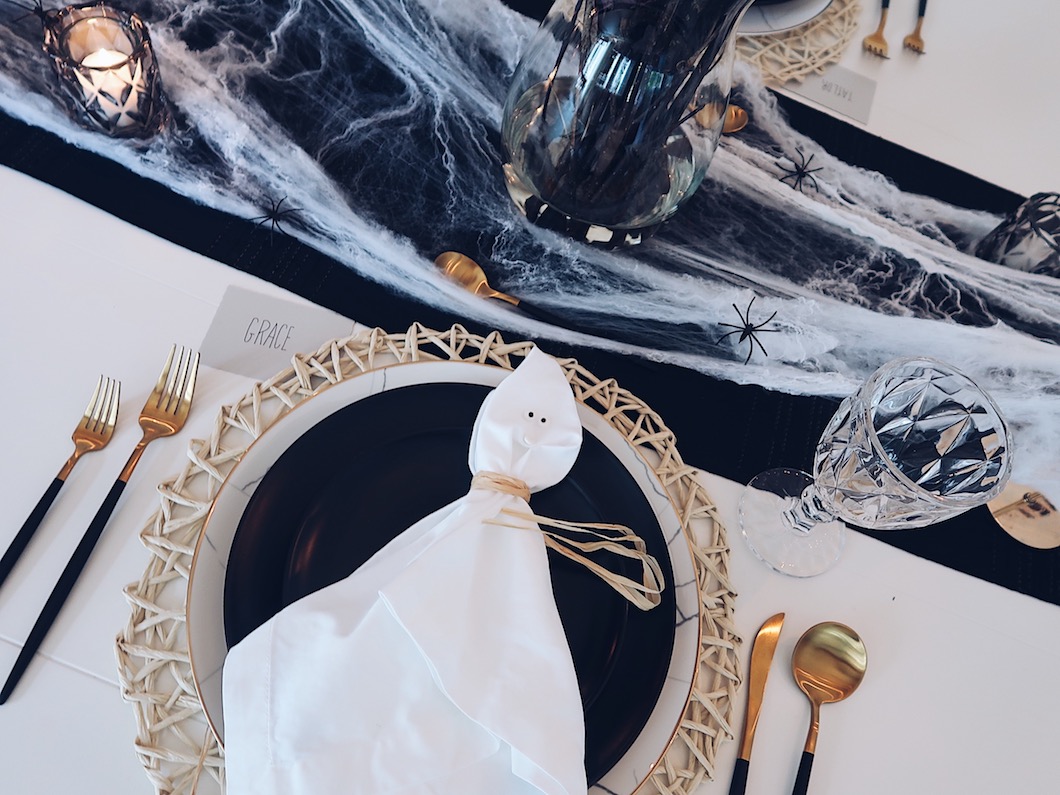 Our Spooktacular Menu
I was trying to think of all the main food groups for the menu and wanted to get some veggies into the kids before all the sugar, so I tried to sneak in some healthy stuff. I also tried to stick with our theme and kept the colours pretty neutral.
Mummy Dogs
These were easy to make. I bought a roll of Pillsbury Crescent, rolled it out and cut 1/2" inch strips. I then used toothpicks to hold the ends into place as I rolled it around the hot dogs. I kept an opening at the top for the head. I baked them in the oven at 350 for 15 minutes. I then added little mustard eyes with the toothpicks.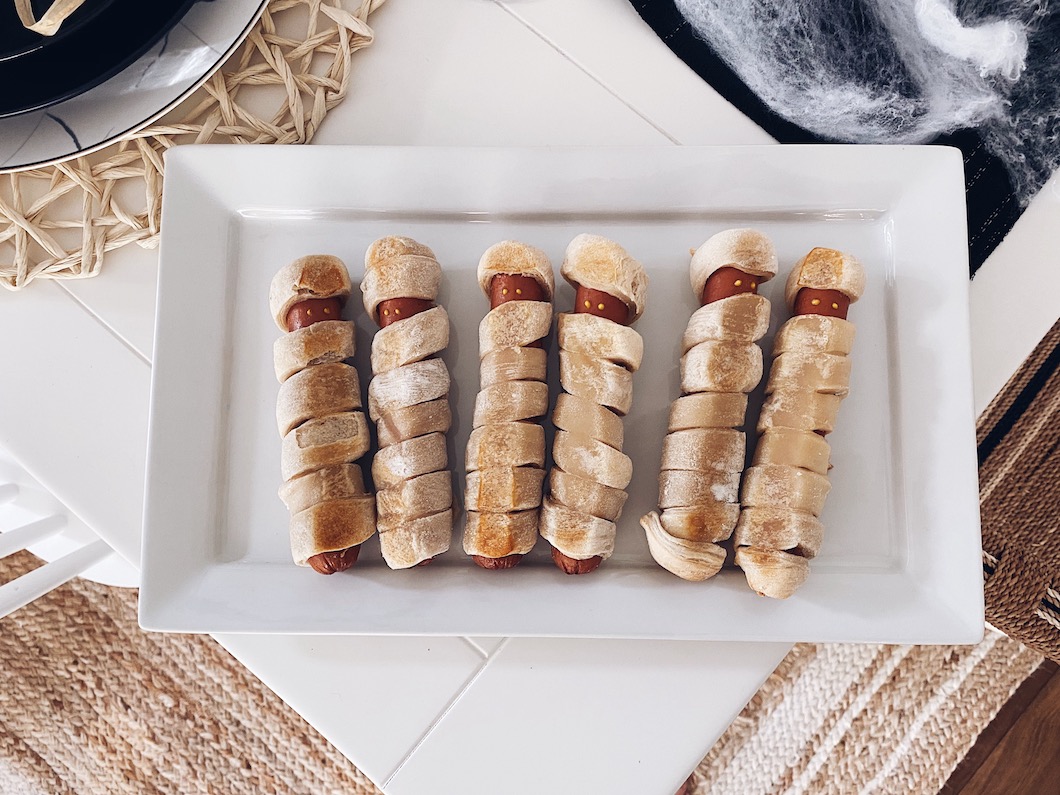 Witch Hair Past
I found black pasta from a Mediterranean deli called Fig Deli. The brand of pasta is La Molisana Nero Di Seppia, which is long black strands of squid ink pasta. Perfect for replicating witch hair! You can find something similar here. I mixed our pasta with a simple pesto sauce for some texture and grit.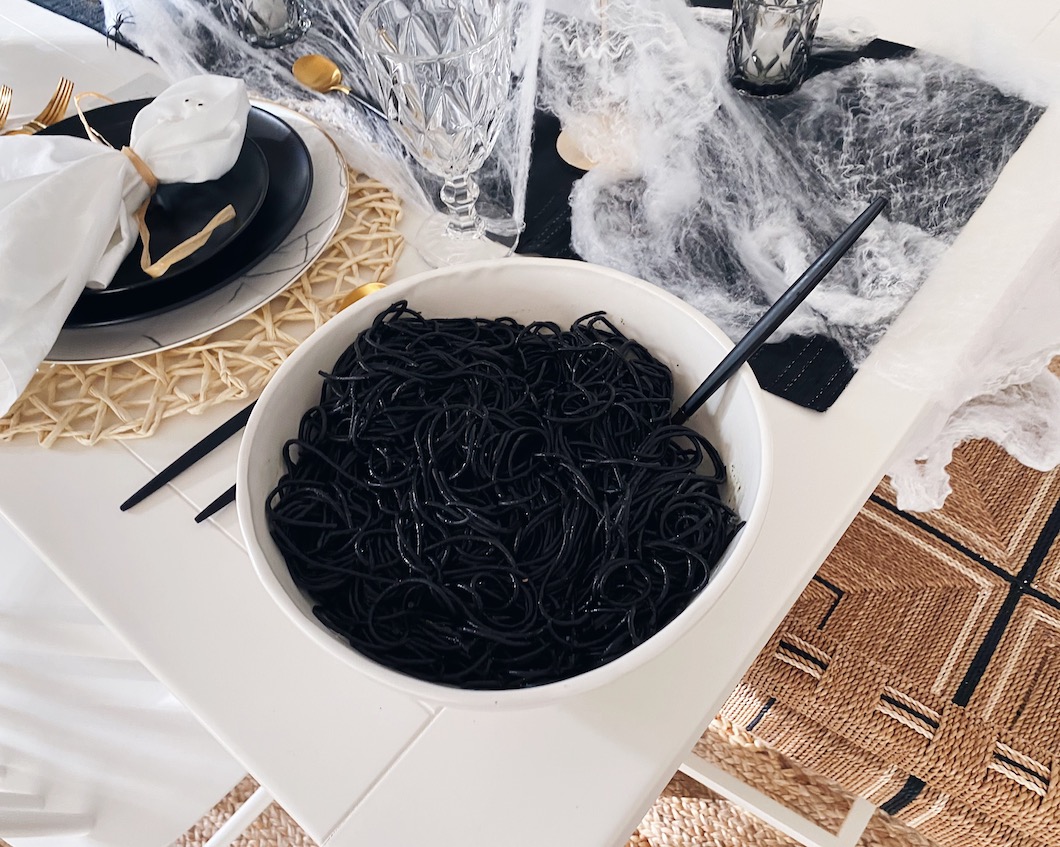 Bat Veggie Queso Dip
This is where I snuck in the veggies into the meal. This vegan dip is made mostly out of cooked carrots, coconut milk, nutritional yeast and some spices. There are similar recipes to this one on the internet that can accommodate your crowd's preferences and diet. Here's one I'd like to try next: 5-Minute Vegan Cashew Queso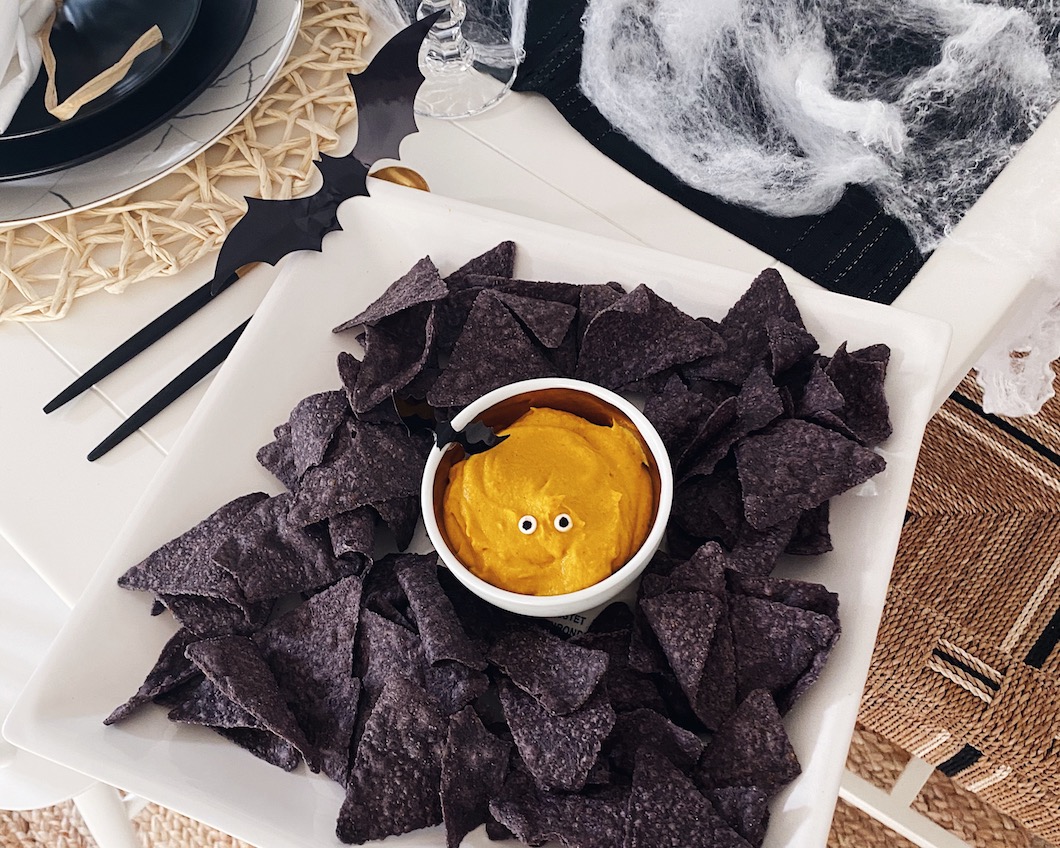 Ghost Berries
These white chocolate covered strawberries are so cute and were the perfect addition to our theme.
Skull Cookies
And last but not least, some black and white skull cookies by the talented Cake by Taryn, because beautifully decorated cookies always elevate an event.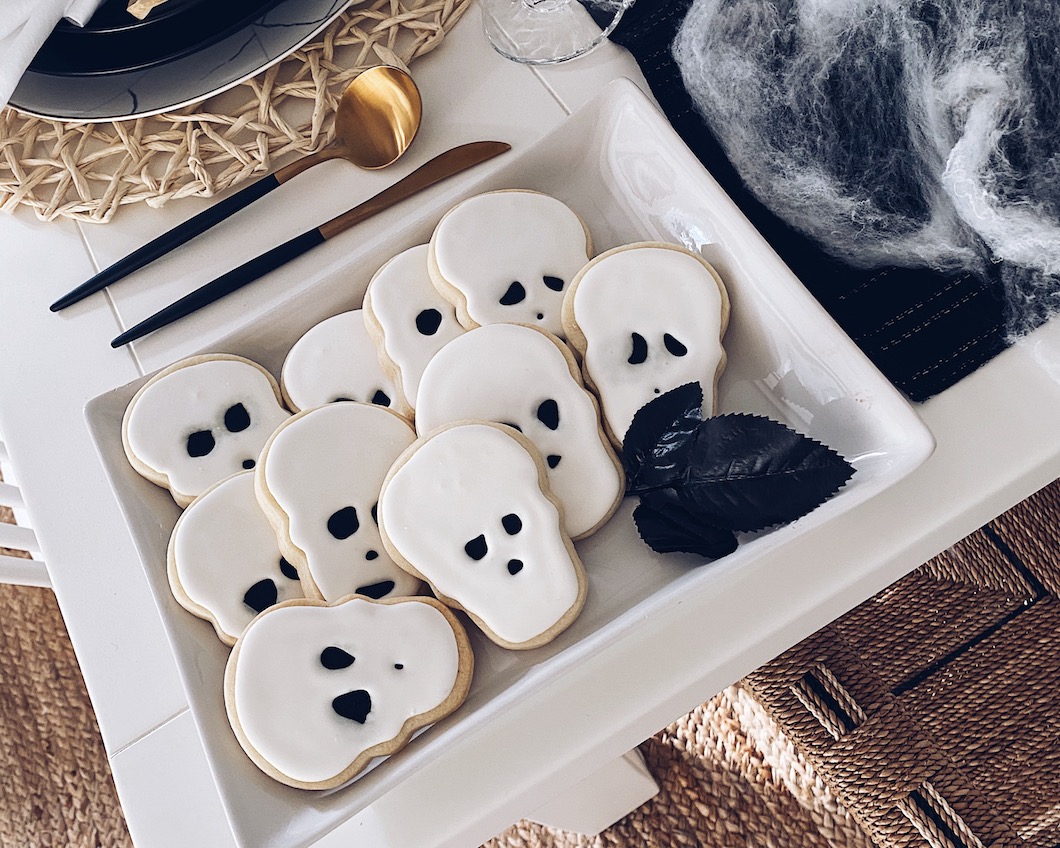 Whatever your plans are this year, I hope you have a Spooktacular day and still find a special way to enjoy the holiday! xo