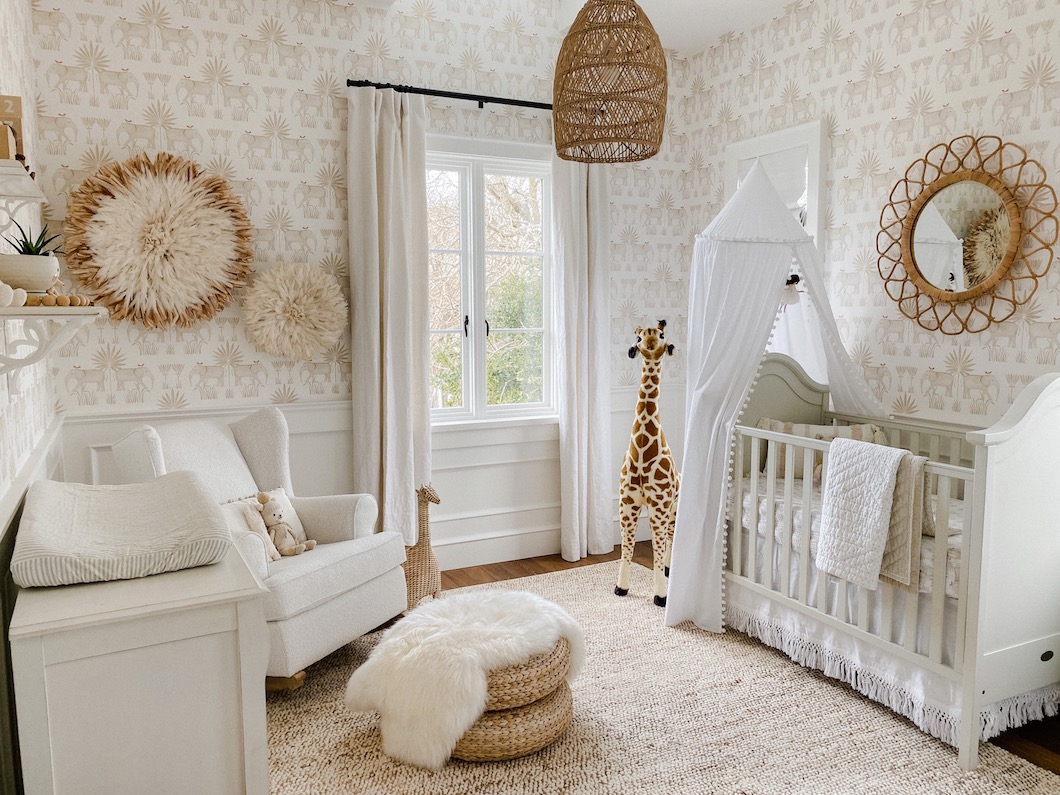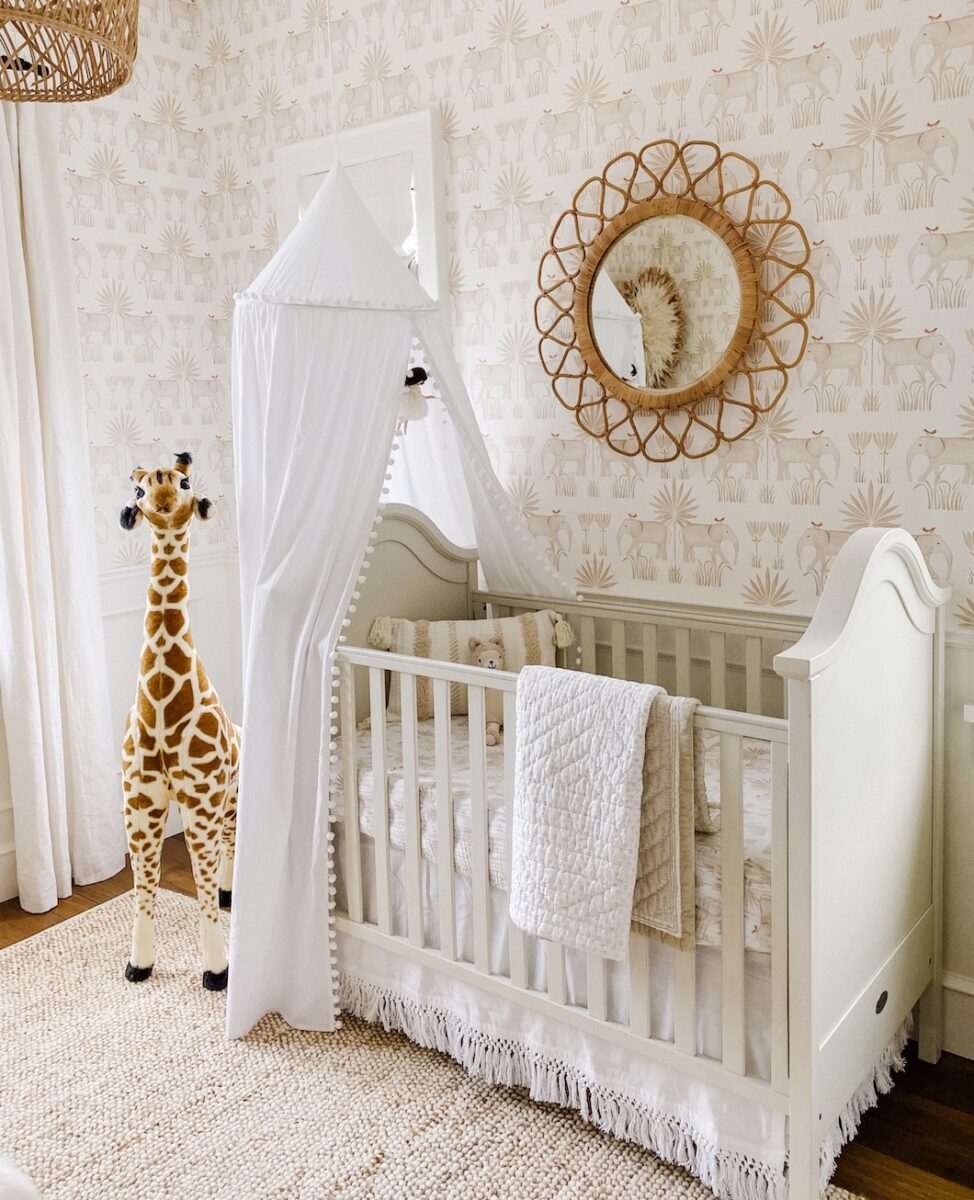 I'm excited to share the nursery with you finally! I've been dreaming of this room far before I was even pregnant. We've been working on piecing it together for the past three months, and I'm so happy it has all come together before babies arrival.
I love that we could reuse a lot of items we used in Lauren and Taylor's nursery, so there are a lot of memories in this room. We've had the crib, open shelves and dresser for ten years, and I'm so glad we decided to hold onto them. Unfortunately, I don't have a link for these items because they're all so old, but they were all purchased at Restoration Hardware Kids. We did a few touch-ups like new, brass hardware for the dresser and a fresh coat of paint on the open shelves to help modernize these pieces.
I fell in love with the Kalahari Wallpaper from Serena & Lily years ago and knew I wanted to use it in our new house. Unfortunately, the print was a bit too young for our two older girls, who are now quite opinionated about their bedroom design and decor. When we found out we were pregnant last summer, I was so excited to purchase the wallpaper and quickly started to dream up the rest of the design for this space.
I think it could look amazing in a smaller space like a powder room or nook too! I was so excited to see that the Kalahari print came in a crib bedsheet and cute little quilt too.
"Kalahari" Safari Print Decor Links:
Wallpaper
Crib sheet
Mini Quilt
Macramé Crib Skirt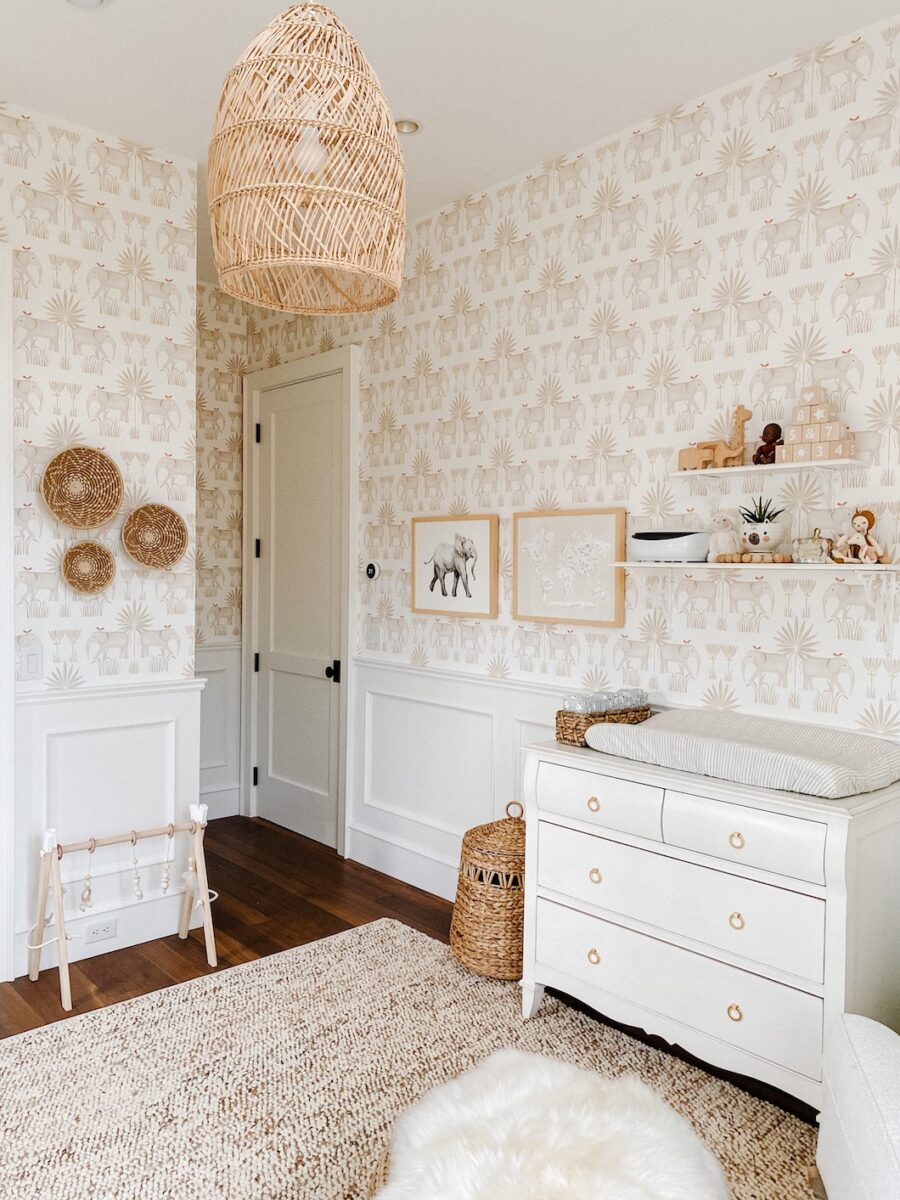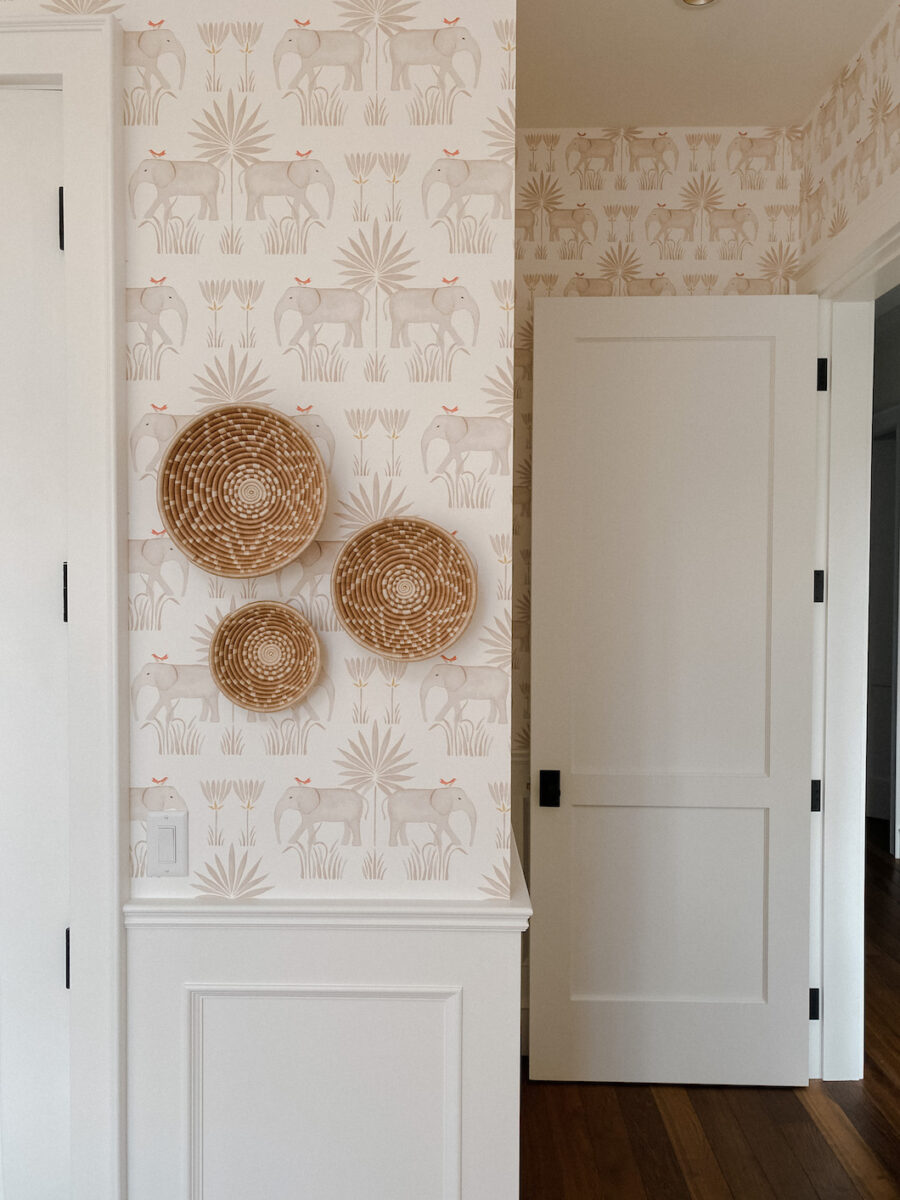 What I love the most about this space is the calming colour palette. It has a very zen-like feel. We kept the colour palette very neutral but added small pops of warmth through the rattan decor, stuffed animals and wall art, so the room still has that cozy feel which I love so much in design. Talking about cozy… I'm obsessed with the Mini Pebble Wool Jute Rug in this room from West Elm. It feels thick and luxurious and has the perfect mix of warm and creamy colours, which goes so well with the wallpaper.
I love the warmth of wicker and rattan and knew it worked perfectly with this theme, so I was so excited to add it in every chance I got from the laundry basket, mirror, light fixture, and numerous hanging wall baskets.
Rattan/Wicker Decor Links:
Rattan Hanging Light Fixture – small
Round Rattan Mirror
African hanging wall basket
Wicker Diaper Basket
Boho Nursery Hamper (Wicker Dirty Basket)
Giraffe Shaped Wicker Basket
Rattan Foot Stool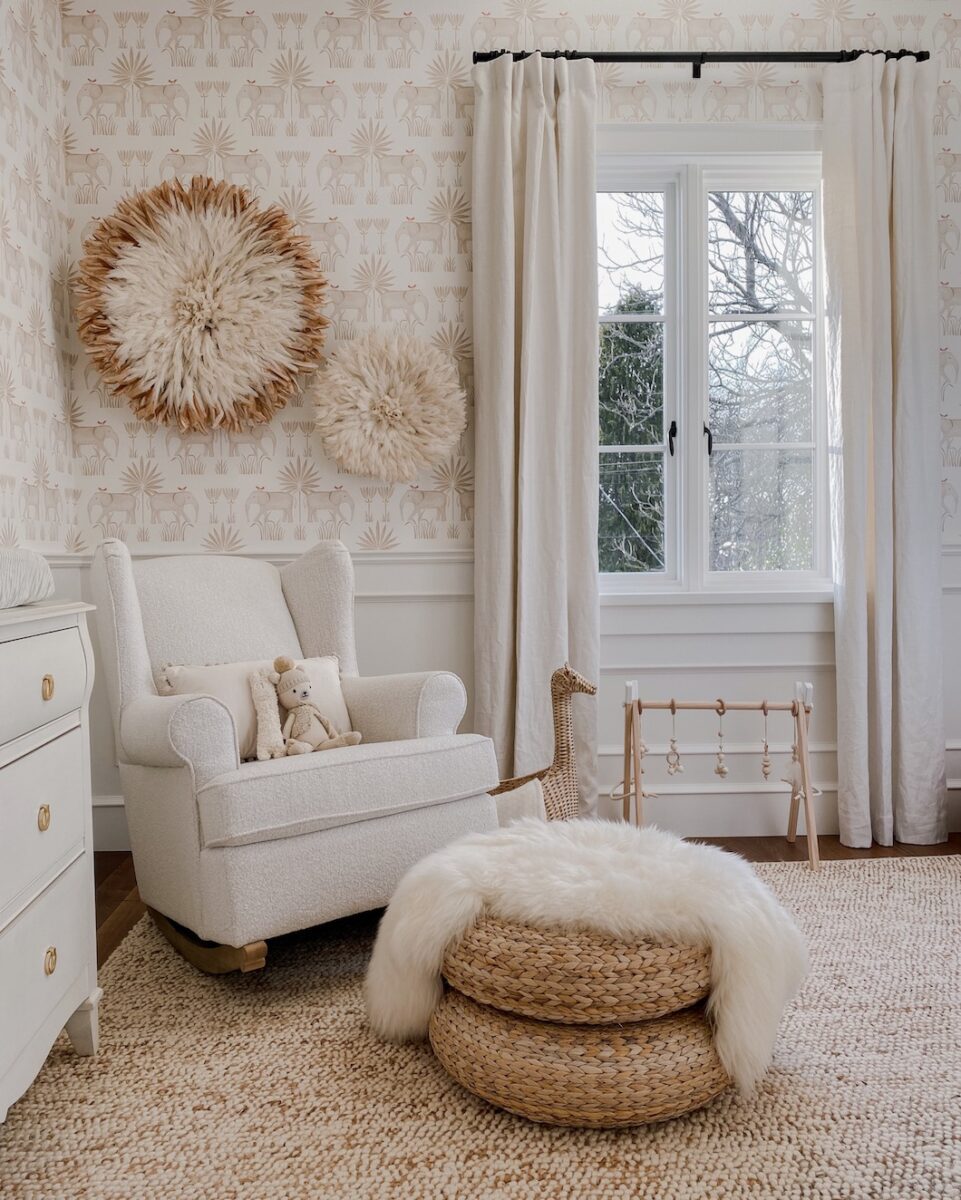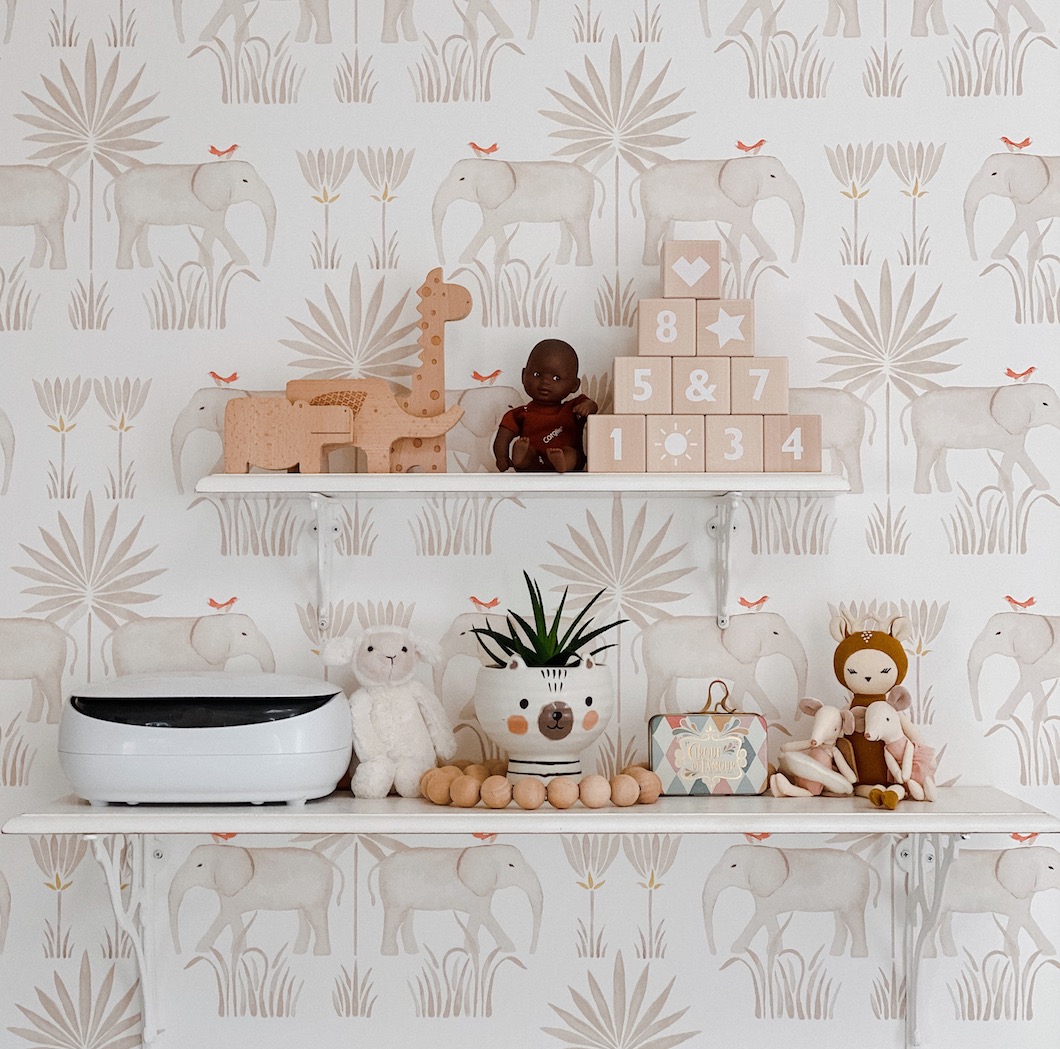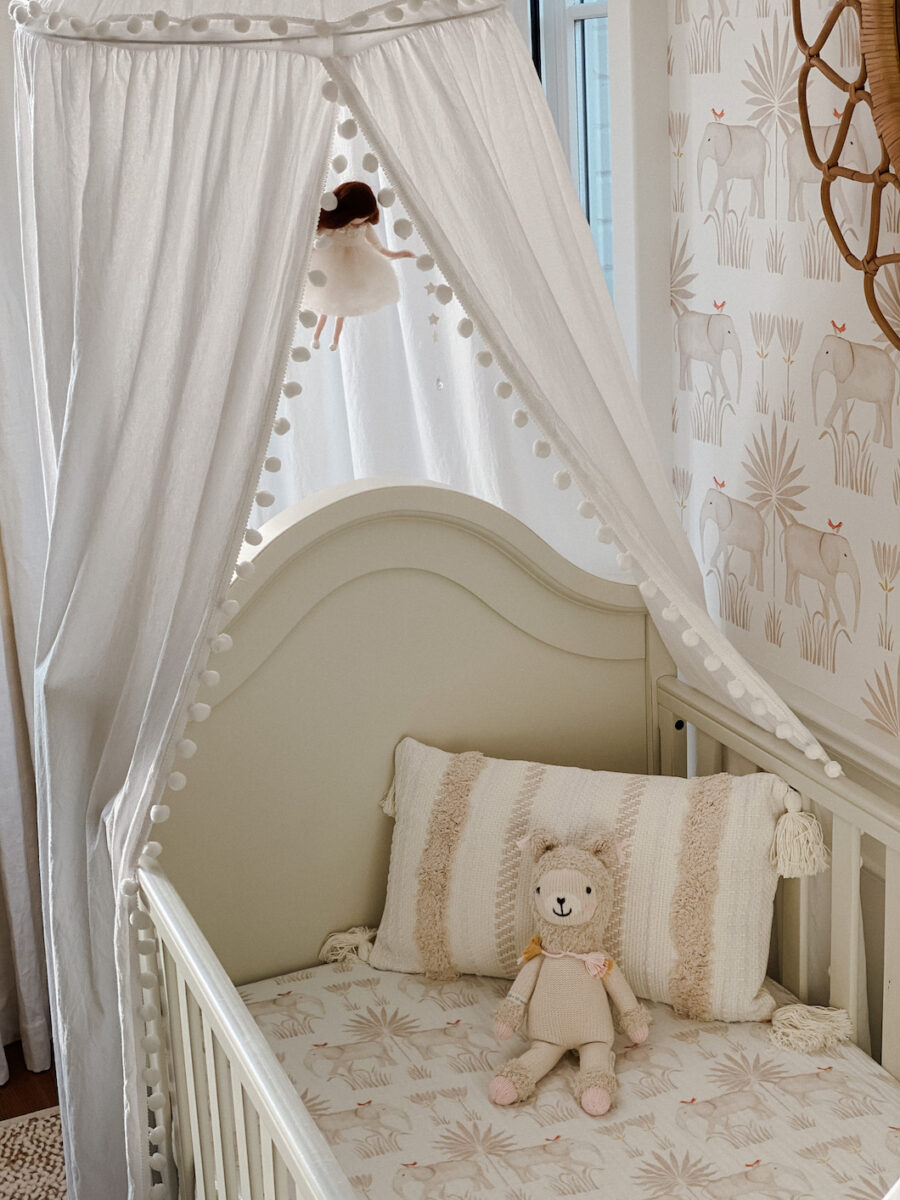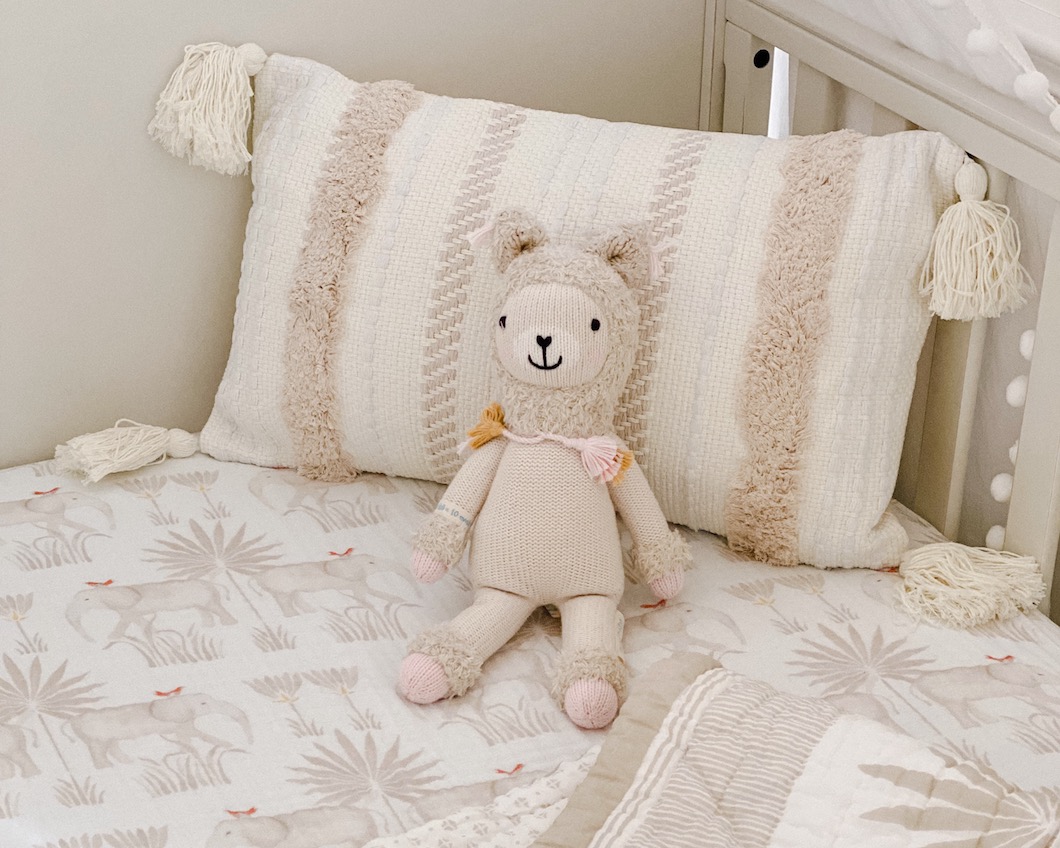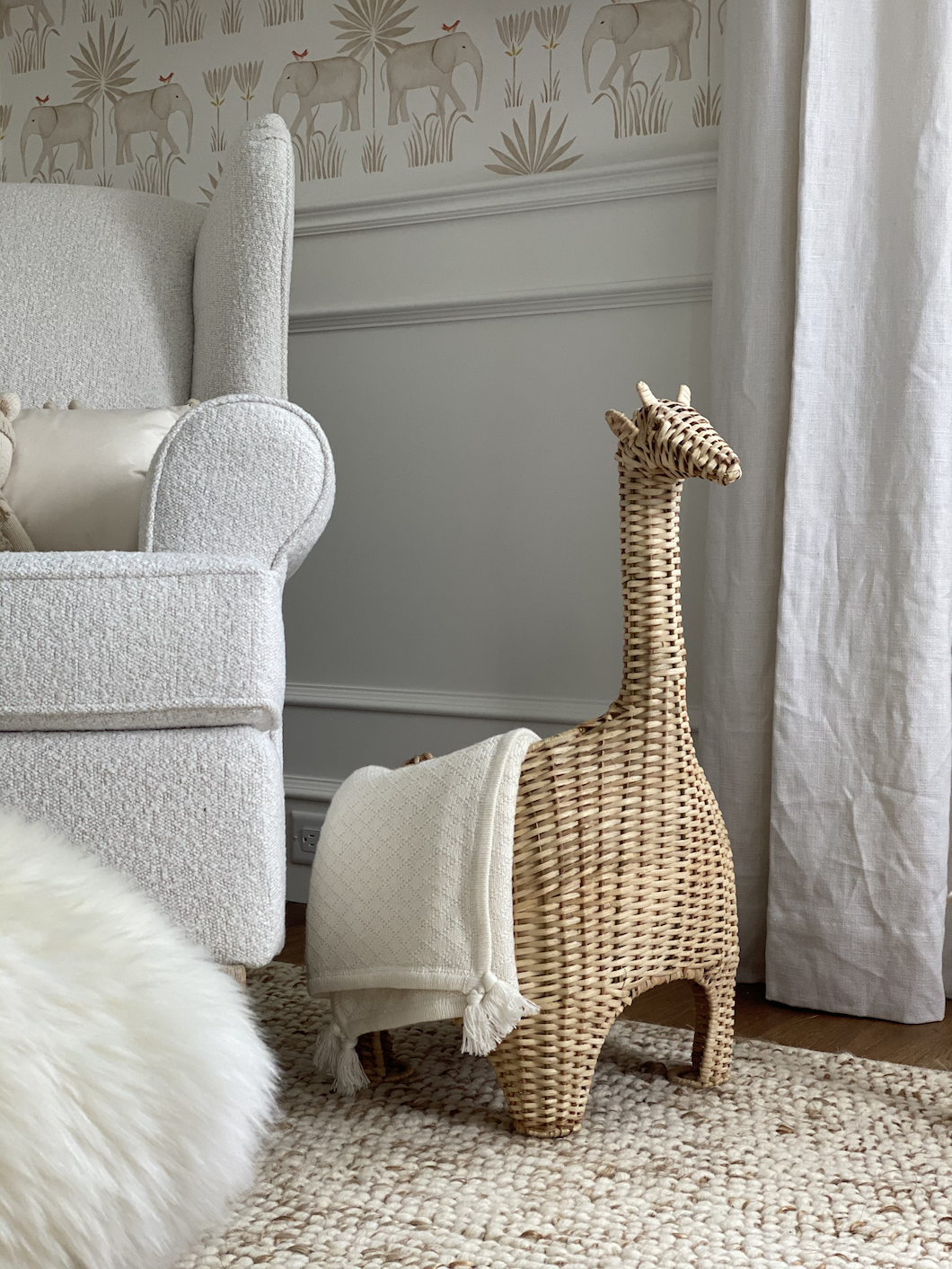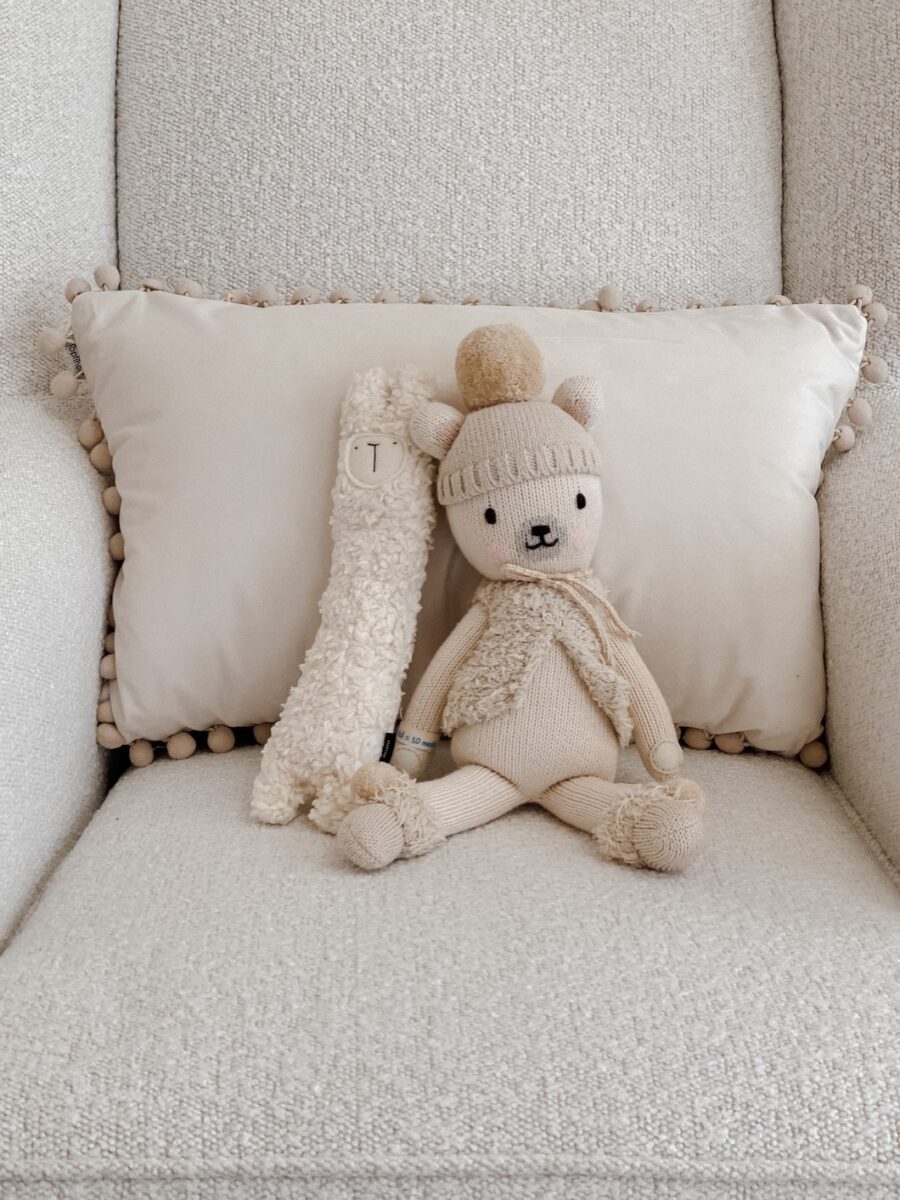 I never thought I was one for a "themed" nursery, but playing off of the safari idea was quite fun. I found some beautiful pieces from Africa like the wall hanging baskets and authentic juju headdresses. Fun fact about the juju headresses above our rocker: royal dancers wore them during Bamileke tribal ceremonies, and they symbolize prosperity. It's fun to learn about the history of items we use in our homes, as it helps us create a stronger connection to them.
I truly believe what makes a room special is when you can incorporate special little items from makers, around the world that are unique.
I love our Cuddle & Kind bear and lama stuffies, ceramic succulent pot, and needle felted mobile I found on Etsy. These little additions add the perfect touch of whimsy!
Furniture Links:
Mini Pebble Wool Jute Rug – West Elm
Rocking Chair (Brushed Boucle Ivory) – Pottery Barn Kids
Decor Links:
Authentic Juju Headdresses
White PomPom Crib/Bed Canopy
Ceramic Animal Planter – Bear
Stuffed Bunny – Classic Lepine
Needle Felted Doll Mobile: Ballerina in white
Melissa & Doug Giant Plush Giraffe
Cuddle & Kind Stuffies
Continent Map Print "Beautiful World" – Minted
Baby Elephant Print – Minted
Fawn Stuffie
Ivory PomPom Decorative Pillow
Lumbar Embroidered Crib Decorative Pillow

Baby Item Links:
Neutral Math Blocks
Wipe Warmer
Wooden Neutral Play Gym
Wooden Childrens/Kids Hangers
Wooden Closet Dividers (24 month)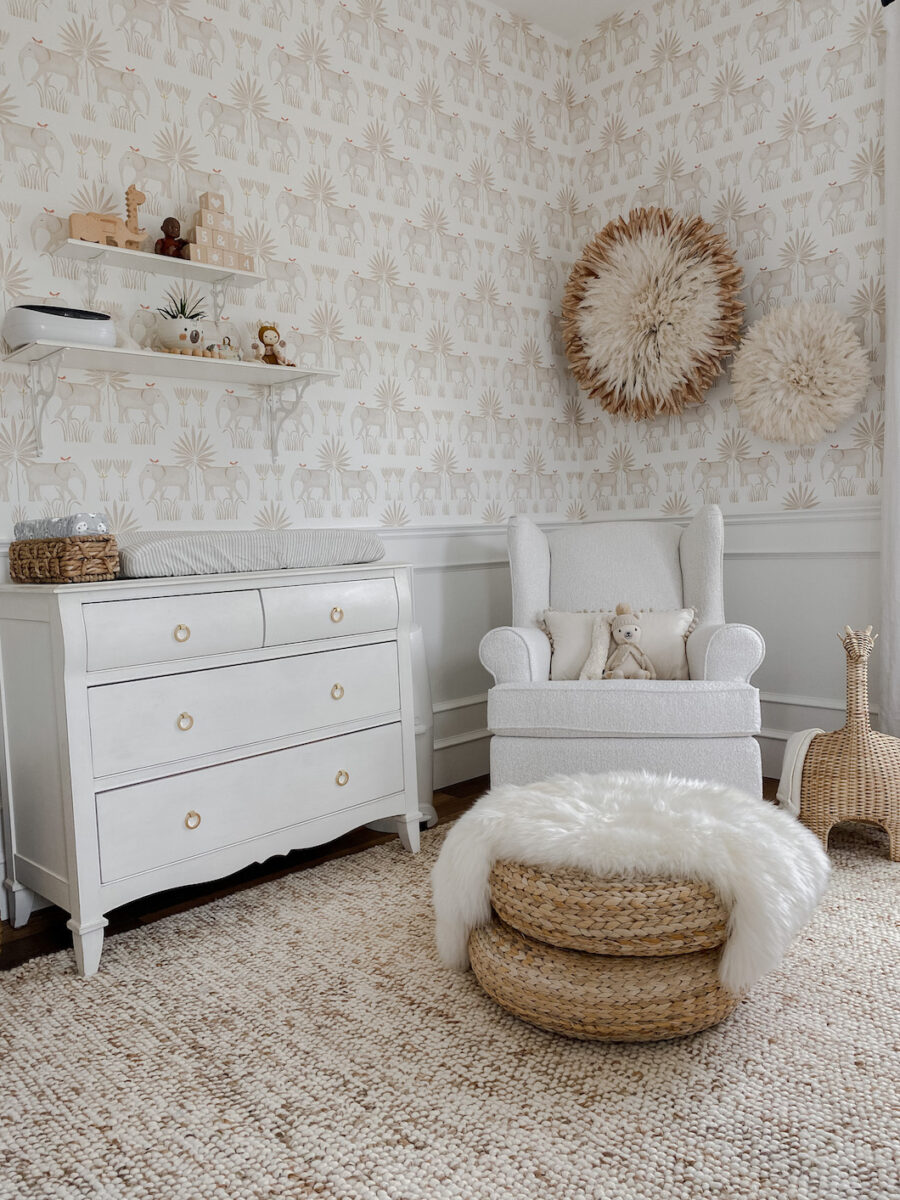 Link Recap: Wallpaper | Crib sheet | Mini Quilt | Macramé Crib Skirt | Rattan Hanging Light Fixture – small
Round Rattan Mirror | African hanging wall basket | Wicker Diaper Basket | Boho Nursery Hamper (Wicker Dirty Basket) | Giraffe Shaped Wicker Basket | Rattan Foot Stool | Mini Pebble Wool Jute Rug – West Elm
Rocking Chair (Brushed Boucle Ivory) – Pottery Barn Kids | Authentic Juju Headdresses
White PomPom Crib/Bed Canopy | Ceramic Animal Planter – Bear | Stuffed Bunny – Classic Lepine
Needle Felted Doll Mobile: Ballerina in white | Melissa & Doug Giant Plush Giraffe | Cuddle & Kind Stuffies
Continent Map Print "Beautiful World" – Minted | Baby Elephant Print – Minted | Fawn Stuffie
Ivory PomPom Decorative Pillow | Lumbar Embroidered Crib Decorative Pillow | Neutral Math Blocks
Wipe Warmer | Wooden Neutral Play Gym | Wooden Childrens/Kids Hangers
The next space I'm excited to share with you is the baby's closet. I'm still waiting on a few baskets, before I can finish organizing the space, so stay tuned! xo