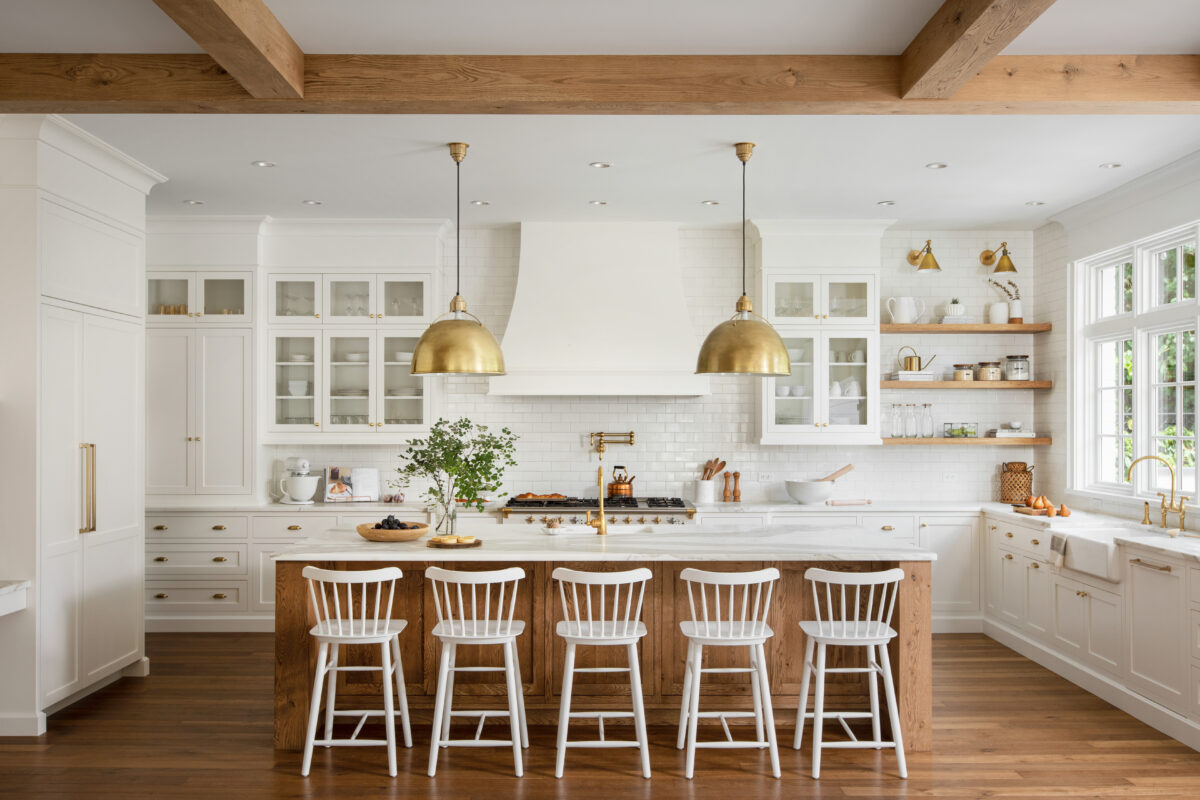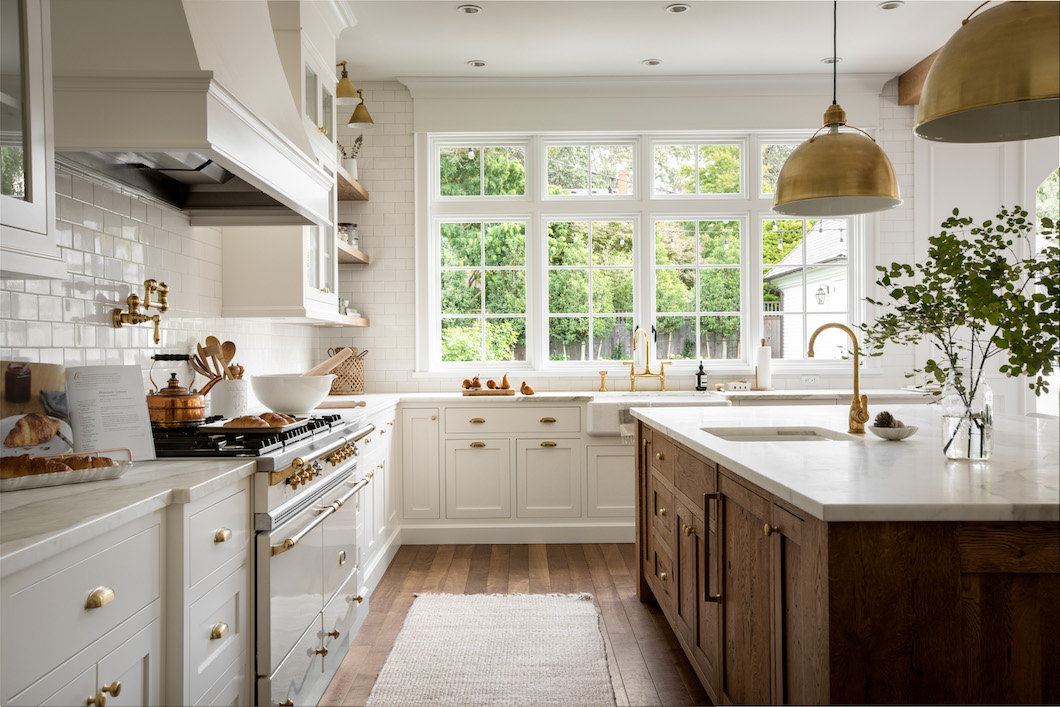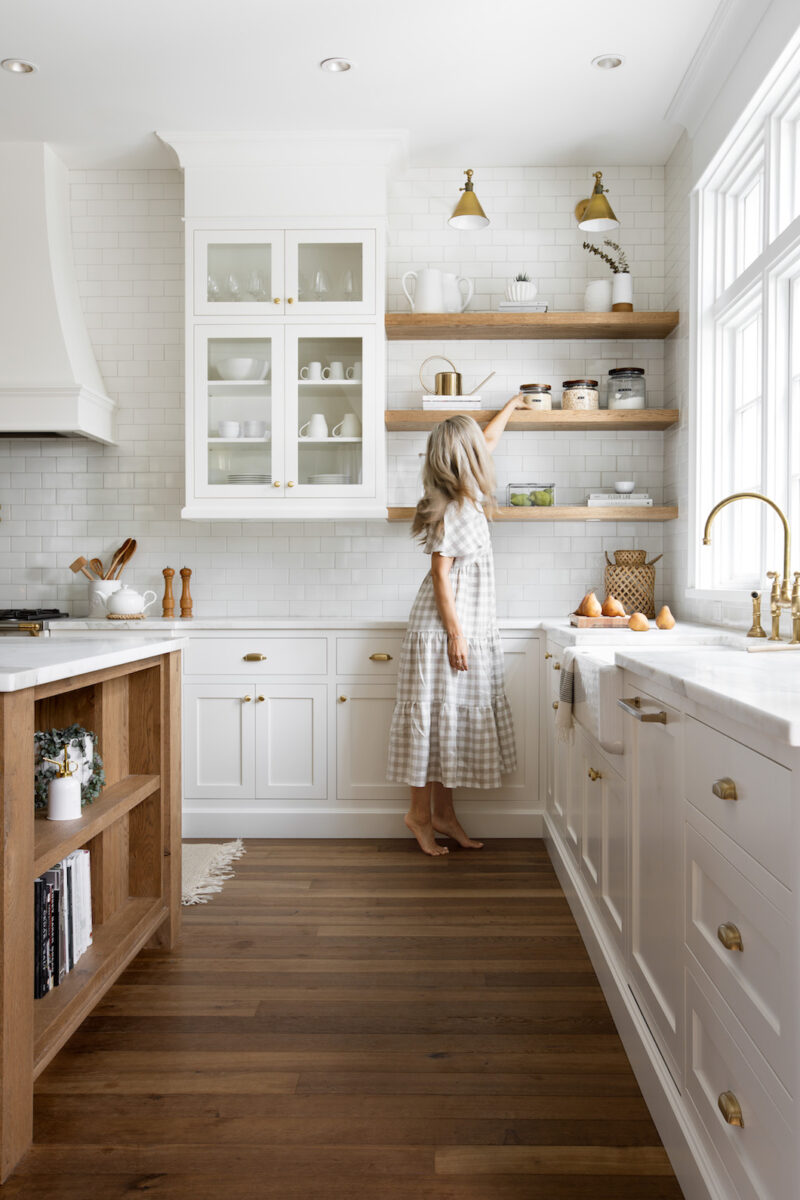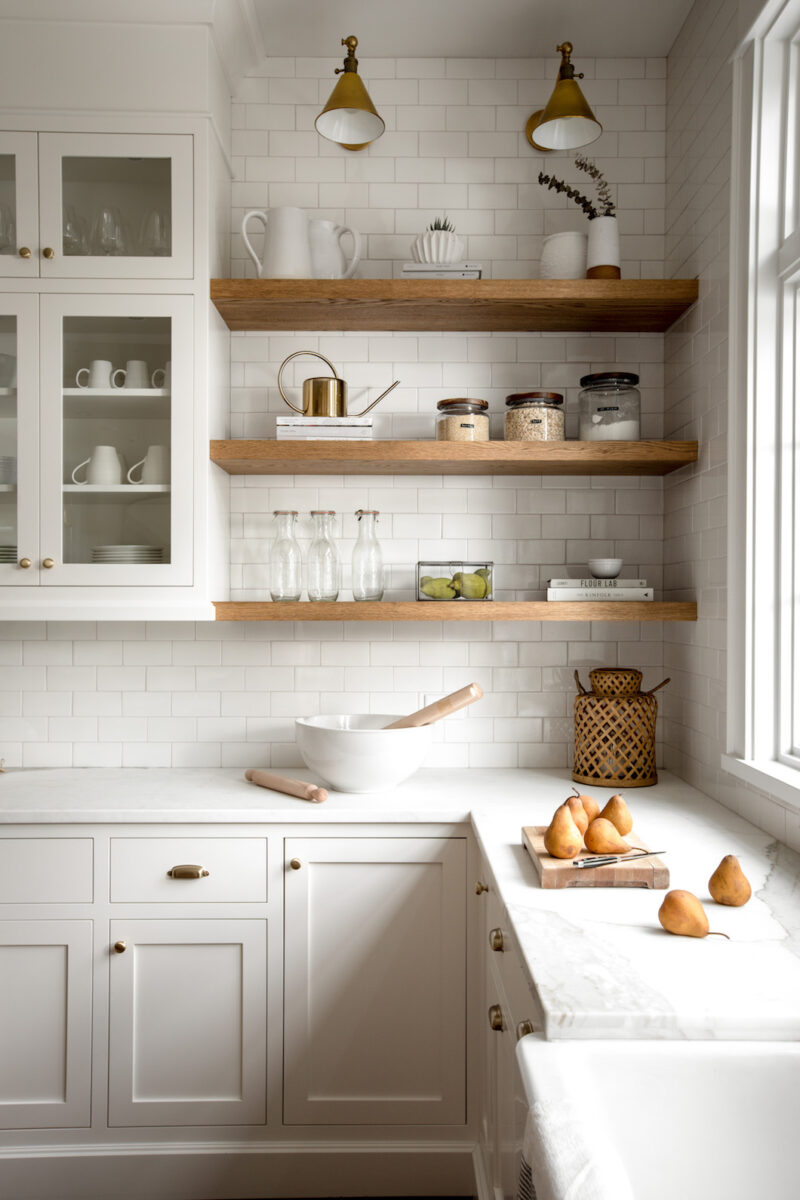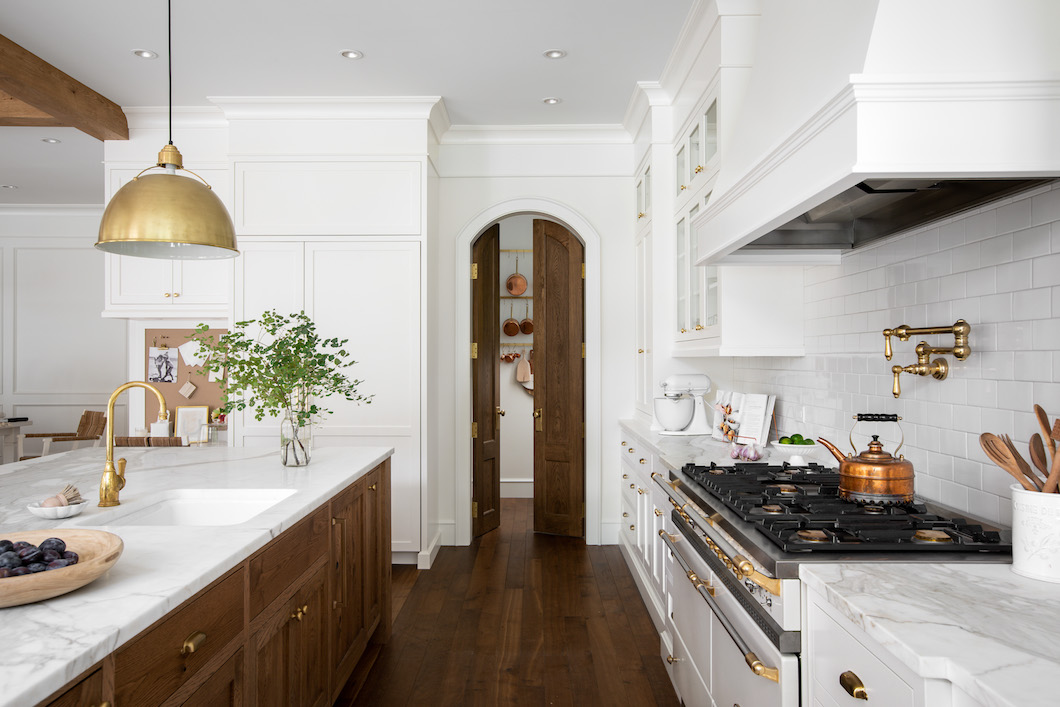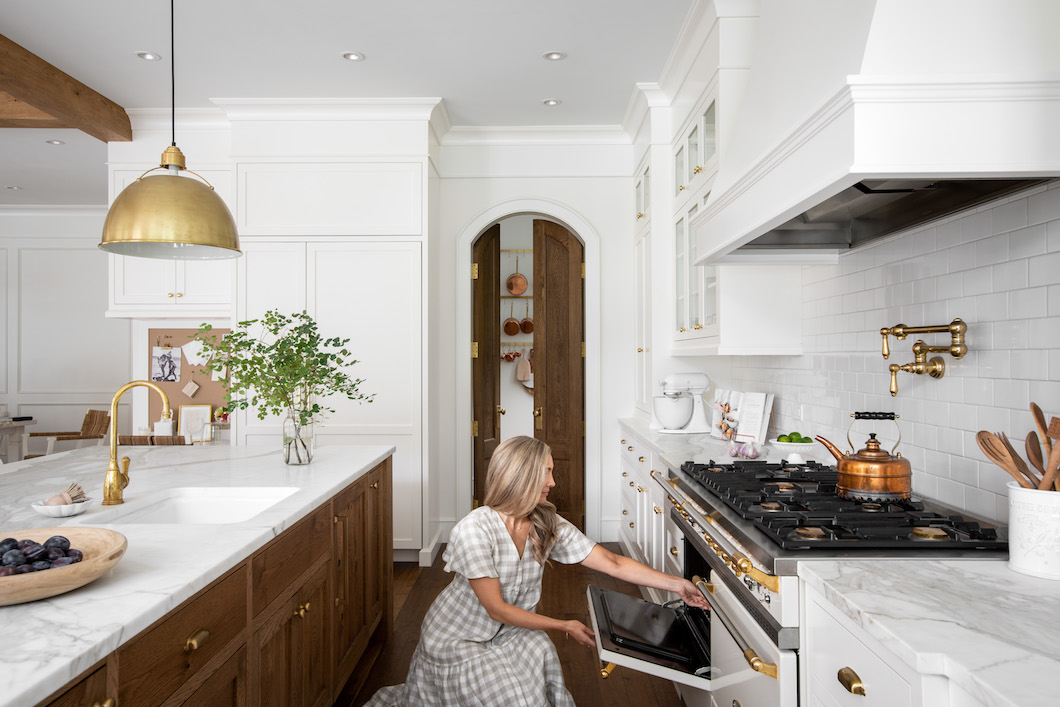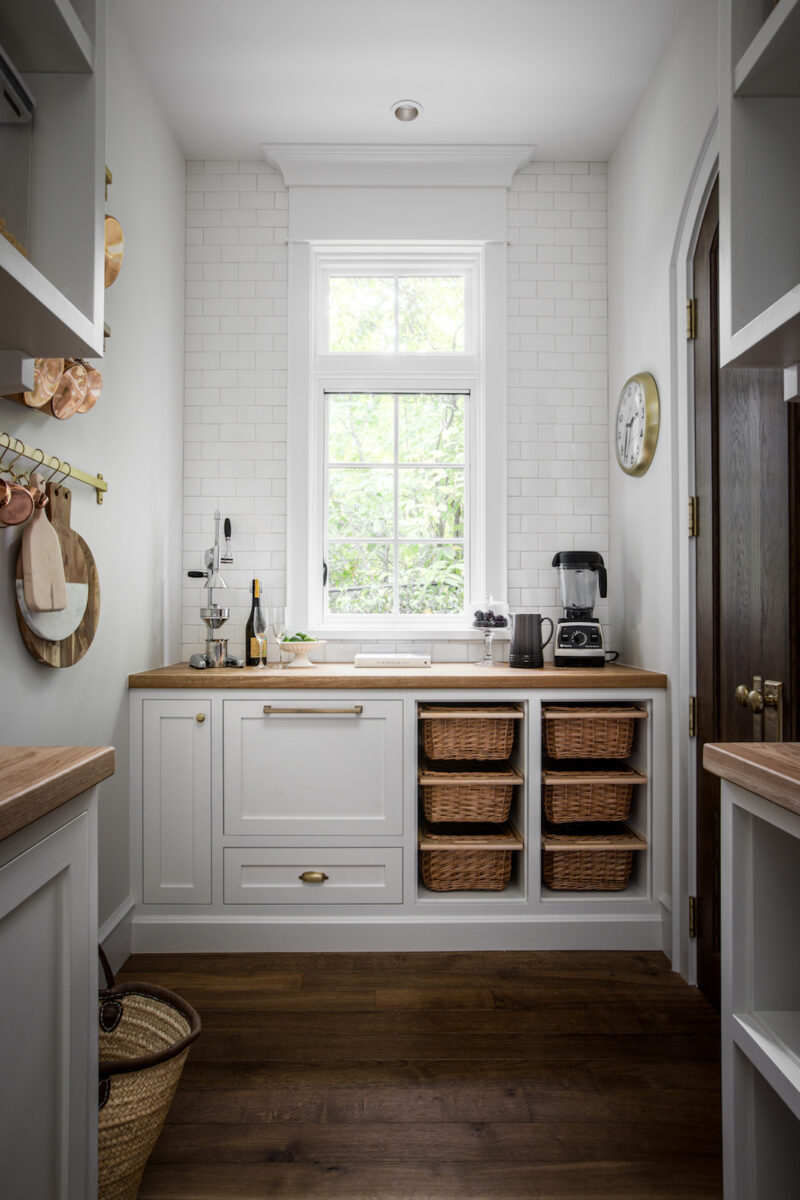 Gosh, this post is a long time coming… We've been in our home for one year now, and we jut now feel settled, and ready to share with you!
Our kitchen is the heart of our home. It's the one room in our house that we spend the most time together as a family, and I'm happy to share all the details and decisions we've made with you!
When designing our home with Jenny Martin Design, I wanted a balance of traditional, yet simple design features, with a french influence. I didn't want our house to look like a bright and shiny new build… I wanted it to feel comfortable, lived-in, warm and welcoming. All our finishes are matte, honed, or satin to have a non-glossy/shiny look. I wanted to have a slightly rustic, "old world" feel, so it looked more like a renovation than a new build. I love the character that old homes have.
Symmetry and balance is extremely important to me in design. It's probably the biggest thing we focused on when designing our home, especially our kitchen! I even opted out of a sink sprayer for our kitchen island sink because I thought it would throw off the symmetry. This was a mistake on my end, because it definitely wouldn't have made a difference in real life, but there will always be something you learn from.
Counters:
One thing that was really important to me with this house is that we used natural materials when possible. This is one of the main reasons why we chose marble for our kitchen counters. We definitely thought long and hard about this, because it's not the common choice these days. But at the end of the day, we found a few gorgeous slabs of calacatta gold marble from Italy that we knew would be perfect for our home and we couldn't turn it down. The white is super white, but it has these beautiful, bold grey and gold veins in it. It was definitely a big splurge, but I know we wouldn't have been happy with anything else. It is one of a kind, which I love about natural materials, and because we had marble in our kitchen in our last home we knew what we were getting into. It's been one year now, and we haven't had any problems with stains and etching. We went with a honed finish, which helps hide marks, and have it sealed with a very good protector. Our marble will eventually get some marks on it, but I'm totally ok with some pantina happening. It will just make the space look loved and lived in more.
Windows:
One of my favourite features are our Loewen kitchen windows, over our large farmhouse sink, that overlooks our backyard. I had this on my wish list for a long time, and even though it was discussed to put the sink elsewhere to have taller windows here, I didn't budge on this vision, and I'm so glad I stuck to my guns. Our windows are double pane, wood on the interior, but metal clad on the exterior which makes them more durable, but still gives off that traditional look and feel.
Range:
Another thing I love sooo much in our kitchen is our La Canche range. It's like a piece of art and really helped to complete our kitchen. It makes cooking so fun, and has inspired many fun cooking nights. I'm not sure if anyone remembers, but the very first dish we made together when we moved into our home was Julia Child's Coq Au Vin. It was a long and exhausting two-day process, but definitely helped us to break in our stove.
It took me some time to convince Cory to opt for this stove. Luckily we had a trip planned to France when we started designing our kitchen, and I arranged a tour of the La Canche factory. We spent an entire morning in their showroom, and even got to test our their stove and make some pasta! It was a once in a lifetime experience and won Cory over. 🙂
Brass:
You will notice a lot of brass in our kitchen from the cabinetry hardware, to the plumbing fixtures to our lighting. Our potlights are even brass in the inside to match everything. 😉 It's a pot light colour called "wheat haze" for those wondering… I wanted an all-white and brass kitchen for a long time now, because I love the warmth the brass colour exudes. It's a trendy choice right now, but I know I will love it for years to come as I've always preferred brass over chrome. My engagement ring and wedding ring is yellow gold, which wasn't that popular of a choice 15 + years ago when I got engaged, but it just goes to show how long I've love warmer toned metals.

One thing to keep in mind when designing with brass, is that there are so many different colours of brass. We worked really hard to ensure all our brass colours in our kitchen worked well together. Our faucets are unlacquered so they will change over time, but they work perfectly with our satin brass cabinet hardware and antique brass lighting. Each company has a different name for their brass finishes, and it's best to get lots of samples before ordering. I learned the hard way in our bathroom and had to return a few light fixtures which turned out to be too yellow.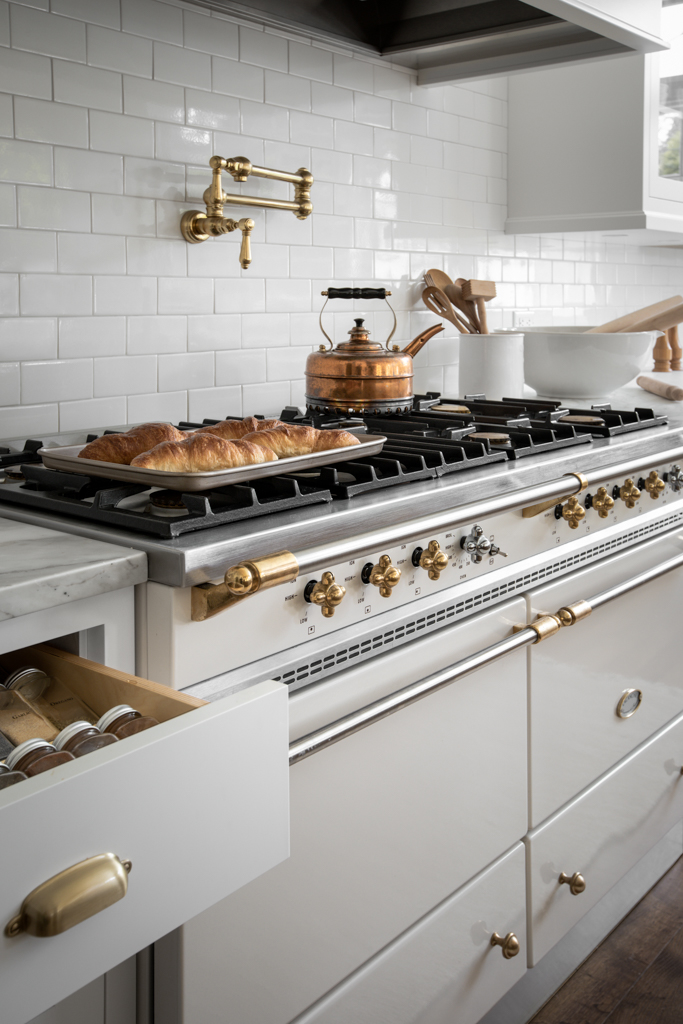 Cabinetry & Island Details:
Our kitchen cabinets are face-frame, which is a subtle but beautiful design detail. It was a hard decision because they are a more expensive option, but I'm happy we went this route because we opted for a simple 2 1/4" shaker, and the two compliments each other nicely. Our uppers have a glass front. We also opted for a flush furniture base on our cabinets without a toe kick because I prefer this look in the kitchen… It also helps with vacuuming as you don't have dirt hiding in hard to reach corners.
The colour we went with for our kitchen cabinets was Benjamin Moore White Dove, which was the primary colour used in our house.
Our island and open shelves is made out of white oak, and we worked with Thomas Phillip on a custom stain. I wanted a distressed look, so it looked old, so we worked together to achieve this look. The size of our island is 10'4" x 5" which comfortably fits 5 stools.
Thanks to our amazing designers (Jenny Martin Design) space planning expertise, we added cutlery dividers, an appliance garage, built in garbage, paper & plastic recycling and compost drawers, spice trays and an oil drawer… It's these little things that make such a difference when organizing our kitchen. I'm so thankful for our designers for recommending these things. Our designers made sure that every space in our kitchen was optimized. Everything in our kitchen feels like it has a special spot.
I also love our panel covered dishwashers, fridge, and drink fridge in our island, it provides such a seamless look with our cabinetry.
Kitchen Design Details:
Team:
Architect: Zebra Group
House Designer: Jenny Martin Design
Builder: Mike Knight Construction
Cabinet Maker: Thomas Phillip
Design Details:
Kitchen Stools: Serena & Lily Tucker Bar Stool in White
Windows: Loewen casement style, wood interior, linen colour metal clad exterior, 5/8" putty profile
Cabinet Details: Thomas Phillip Kitchen Cabinetry, 2-1/4" Shaker, lacquered, birch/ply, in Benjamin Moore White Dove
Island Details: Thomas Phillip white Oak custom stain, size: 10'4" x 5"
Open Shelves: same as island (details above).
Kitchen Countertops: extra white, Italian, calacatta gold marble, honed, square eased edge, 1 1/4" tick
supplier: Hari's Stones
installer: Colonial Countertops
Pantry Countertops: white oak butcher block, 1.75" thick, with a squared eased edge
supplier: Caribou
installer: floform
Backsplash: 3" x 6" ceramic subway tile, with a crackle finish in the colour gardenia, grout colour: frost
supplier: Sonoma Tile Makers
installer: Island Floors
Flooring: European Oak Engineered Hardwood Flooring, series: authentic collection, colour: Promise, Super Matte Finish, 5" W X 5/8″ thick
supplier: Hakwood
installer: Island Floors
Cabinet Hardware: 3-1/2" center to center thin cup pull, and 1-1/8" diameter knob in satin brass
supplier: Colonial Bronze
provider: Victoria Speciality Hardware
Appliance Pulls: Emtek Alexander Appliance Pull in Satin Brass
Main Sink Faucet: Perrin and Rowe, Georgian Era Bridge Faucet w/ Lever Handles, unlacquered brass
provider: The Ensuite Victoria
Prep Sink Faucet: Perrin and Rowe, Georgian Era Single Lever Single Hole Prep Faucet, unlacquered brass
provider: The Ensuite Victoria
Pot Filler: Perrin and Rowe, Italian Kitchen Wall Mount Swing Arm Pot Filler, unlacquered brass
provider: The Ensuite Victoria
Farmhouse Sink: Kohler, Whitehaven, under-mount single-bowl kitchen sink with tall apron White w/ Matte Black Drain
provider: The Ensuite Victoria
Prep Sink: Kohler, Riverby, under-mount single-bowl kitchen sink with sink rack White
provider: The Ensuite Victoria
Appliances:
Oven: 55" La Canche Sully in Ivory with brass fixtures. Gas cooktop and electric oven.
supplier: The French Barn
Fridge & Freezer: Miele Vi MasterCool, single-panel
provider: Coast Appliances
Bar Fridge: Marvel 24″ Dual Zone Wine and Beverage Center
provider: Coast Appliances
Dishwasher: Miele 24", built in, panel-ready, G 4998 Vi
provider: Coast Appliances
Pantry Dishwasher: Fisher & Paykel, DishDrawerTM Dishwasher, 7 Place Settings, Panel Ready (Tall)
provider: Coast Appliances
Toaster Oven: Breville Smart Toaster Oven
Blender: Vitamix Pro 750
Lighting
Open Shelve Lighting: Visual Comfort, Boston Functional Single Arm Library Light, in Antique Brass
Island Lighting: Visual Comfort, Euqene Large Pendant, Hand Rubbed Antique Brass, 21" dim.
Thank-you so much to the talented team at Platinum Creative for shooting our house and providing most of the images for this post.
Hope I'm not missing anything!